Veal Cutlets with Sauteed Baby Artichokes
Veal Cutlets with Sauteed Baby Artichokes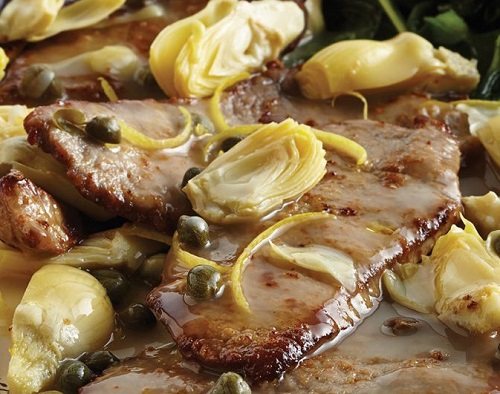 Ingredients:
1/4 cup fresh lemon juice
12 baby artichokes
1/4 cup extra virgin olive oil
2 large garlic cloves, minced
2 tbsp capers, drained
1/2 teaspoon dried crushed red pepper
1/2 cup fresh basil leaves, thinly sliced
1 teaspoon grated lemon peel
Six 4-ounce veal cutlets (each about 1/4 to 1/3 inch thick)
2 tablespoons (1/4 stick) butter
3 tablespoons chopped fresh parsley
Directions:
Fill large bowl with cold water; add lemon juice.
Cut off stem and top quarter from 1 artichoke.
Bend back dark green outer leaves and snap off at base until pale green and yellow leaves remain.
Quarter artichoke lengthwise; remove any purple-tipped leaves from center.
Place in lemon water.
Repeat with remaining artichokes.
Cook drained artichokes in large pot of boiling salted water until crisp-tender, about 8 minutes.
Drain well; set aside.
Heat olive oil in heavy large skillet over medium-high heat.
Add garlic and saute until fragrant, about 1 minute.
Add artichokes and saute 5 minutes.
Add capers and crushed red pepper.
Cook  about 5 minutes.
Stir in basil and lemon peel.
Season to taste with salt and pepper. (Can be made 2 hours ahead. Cover and let stand at room temperature. Rewarm before using.)
Sprinkle veal with salt and pepper.
Melt butter in large nonstick skillet over high heat.
Working in batches, add veal and cook until brown, about 2 minutes per side.
Transfer veal to plates.
Sprinkle with parsley.
Serve with artichoke mixture. Makes 6 servings.
That's it!