Warm Cuttlefish and Asparagus Salad
Warm Cuttlefish and Asparagus Salad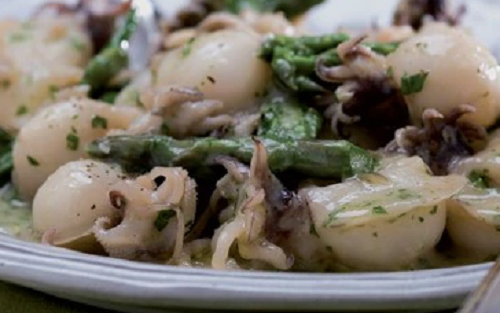 Ingredients:
Serves 6.
1 lb and 2 oz (500 grams) medium cuttlefish, cleaned and cut into thin strips
11 oz (300 grams) green asparagus, spears cut into 2-inch (5-cm) lengths
1 tablespoon fresh flat-leaf parsley, chopped
1 garlic clove, chopped
3 tablespoons extra virgin olive oil
1 teaspoon coriander seeds
Salt and pepper
Directions:
Halve the pieces of asparagus lengthways.
Parboil in salted water for about 5 minutes.
Drain and refresh under cold, running water.
Heat the olive oil in a frying pan.
Add the cuttlefish and cook, stirring frequently, until lightly browned.
Season with salt and pepper.
Add the parsley, coriander, asparagus and garlic, and mix well.
Remove the pan from the heat.
Transfer to a serving dish and serve warm.
That's it!