White Chocolate and Raspberry Panna Cotta Recipe
White Chocolate and Raspberry Panna Cotta Recipe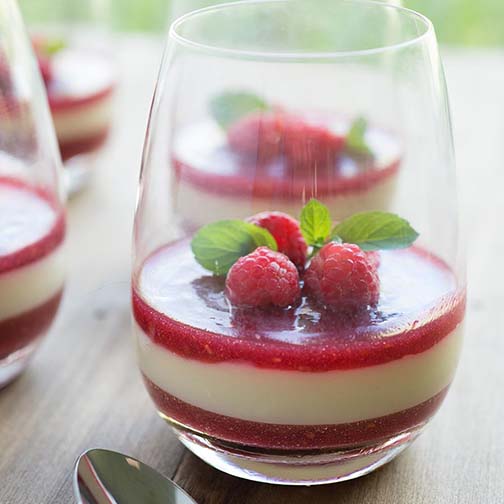 by GourmetFoodStore.com
This sophisticated dessert is beautiful to serve and really delicious. We also love how easy it is to make, requiring no baking and no cooking (well, unless you consider boiling cream cooking!). You can substitute the raspberries for strawberries, blueberries, or whatever fruit is in season.
Prep Time:
Cook Time:
Total Time:
Yield: 6
White Chocolate and Raspberry Panna Cotta Recipe Instructions
Ingredients
8 oz. fresh or frozen raspberries + 6 oz. for garnish

7 oz. raspberry jam or preserves

¼ cup of water

2 tsp. powdered unflavored gelatin

7 oz. white chocolate, chopped

2 ½ cups heavy cream

¾ cup white sugar

1 bunch fresh mint
Directions
Puree 8 oz. raspberries and mix them with the jam.

Distribute half of this preparation in the bottom of six glasses.

Put the glasses on a tray in the fridge and reserve aside the other half of the raspberry mixture.

Put the water in a bowl and add the powdered gelatin to hydrate, mix with a fork. Set aside.

Put the chopped chocolate in a medium bowl.

Over medium heat in a small saucepan bring the cream to boiling and pour onto the chocolate, mixing with a wooden spoon until the chocolate is completely dissolved. Add the gelatin and sugar, mix and leave to cool – the texture should be thick and creamy.

Bring out the glasses from the fridge and pour the panna cotta mix slowly over the raspberry jam mix, creating a layer. Reserve in the fridge until panna cotta is firm.

Once firm, layer the rest of the marmalade on top of the panna cotta and refrigerate again.

To serve, arrange the raspberries and mint leaves on top of each glass and serve with a long spoon.