Prosciutto and Fontina Stuffed Lamb Tenderloin Rolls Recipe
Prosciutto and

Fontina

Stuffed Lamb Tenderloin Rolls Recipe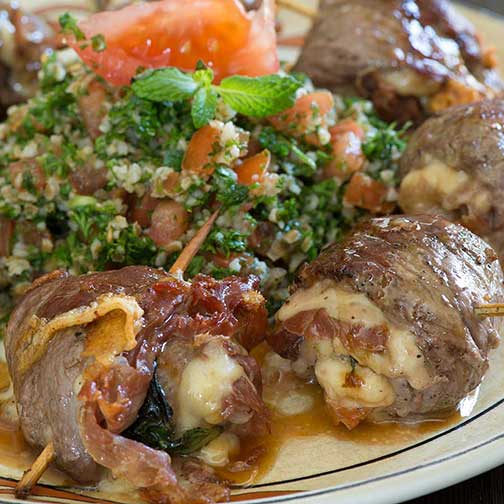 by GourmetFoodStore.co
A great alternative to the whole roasted lamb leg or a long-cooking rack, these lamb tenderloin rolls are made in less than an hour and combine the mild flavor of lamb with the richness of great

Fontina

 cheese and the salty-sweet flavor of Italian prosciutto.
Prep Time:
Cook Time:
Total Time:
Yield: Serves 4
Prosciutto and

Fontina

Stuffed Lamb Tenderloin Rolls Recipe Instructions
Ingredients
8 x 2.7 ounce lamb tenderloin strips

8 thin slices prosciutto

½ lb.

Fontina

Cheese, sliced into long thin strips

8 whole fresh basil leaves

2 tablespoons olive oil

1 teaspoon dried rosemary

1/2 cup Harvey's Bristol Cream Sherry

2 tablespoons unsalted butter, at room temperature

Salt and freshly ground black pepper
Directions
Preheat your oven to 400 F.

With a meat hammer, lightly hammer each lamb tenderloin strip until flat.

Take each tenderloin strip and layer with

Fontina

cheese slices, a slice of prosciutto, a leaf of basil, and

Fontina

cheese slices again. Then starting from one end tightly roll the tenderloin and then skewer to keep it closed. Continue until all skewers have been made.

Generously salt and pepper the tenderloins, and then sprinkle with the dried rosemary.

Bring a sauté pan to medium high heat and add the olive oil. Once hot, sear the tenderloin skewers on both sides until they get a nice caramelized brown sear. Typically about 2 minutes per side. Move the tenderloins into a roasting pan and cook in the 400 F oven for 8 to 10 minutes..

With the same sauté pan that you cooked the tenderloins, keep on a medium high heat and add the Harvey's Bristol Cream Sherry and cook for 1 minute, scrapping the seared bits clinging to the pan with a wooden spoon. Add the chicken stock and cook until sauce has reduced by half, approximately 2-3 minutes. Remove from the heat and whisk in the butter until melted.

Remove the tenderloins from the oven and plate. Drizzle the sherry sauce on top and serve with a salad .