Baked Clams Recipe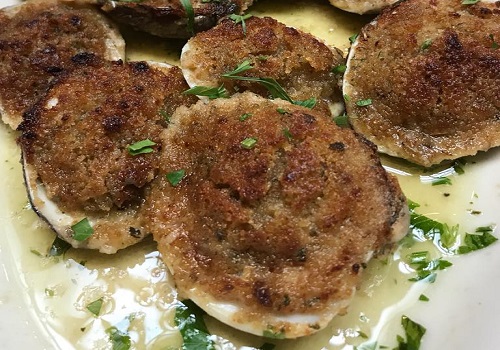 Ingredients
For 2-3 Person(s)
For the Clams:
2

dozen

Little Neck clams

1

cup

plain bread crumbs

1

tablespoon

grated Pecorino cheese

4

cloves garlic

2

tablespoons

fresh parsley

4

tablespoons

extra virgin olive oil

salt & pepper
Directions
Wash the clams under fresh water, shuck them . Trick (Place the clams on a sheet tray and put them in the preheated oven for 2 to 3 minutes or until the clams just begin to open. We don't want to cook the clams, we just want them to open a little.)
Using a butter knife pry the clams open and remove the top shell and discard. Completely pull the clam away from the bottom shell and place it back in the bottom shell. This will allow for easy eating.
In a bowl, add your ingredients and mix well until the oil has been fully absorbed by the bread crumbs. The bread will look uniformly wet.
Add salt and pepper as desired.
Place all the open clams in a baking sheet and with a teaspoon put the breadcrumbs in each clam until the clam is completely covered.
Bake at 500F for 5-7 minutes, then put under the broiler for 1 minute to brown.