Pan Seared Salmon with Lemon Herb Parmesan Sauce
Pan Seared Salmon with Lemon Herb Parmesan Sauce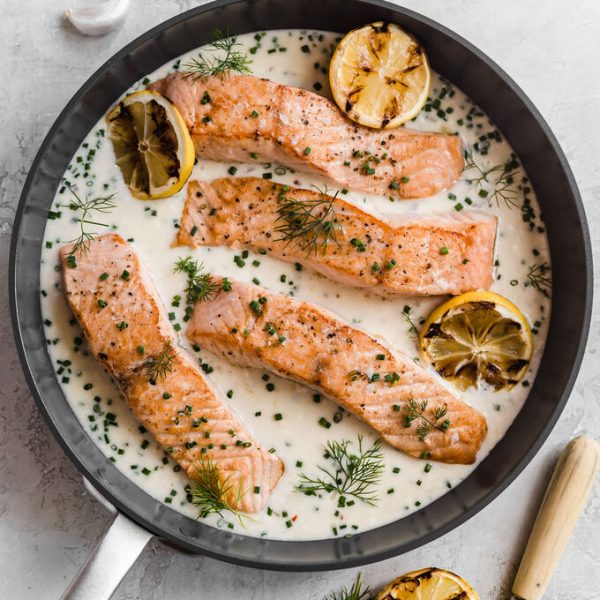 By Ari Laing
Serves
Makes 4 servings
Ingredients
For salmon:

4 skin-on salmon fillets, about 1 lb.

1 tsp kosher salt

¼ tsp freshly ground black pepper

2 tbsp. grapeseed or extra virgin olive oil

2 large shallots, minced

3 cloves garlic, minced

1 tsp crushed red pepper flakes

1 cup coconut milk, full fat or light OR 1 cup heavy cream

⅓ cup mascarpone cheese, room temperature

½ cup parmesan cheese, grated

2 lemons, halved and grilled (grilling optional, but highly recommended!)

3 tbsp. fresh chives, chopped, plus more for serving

3 tbsp. fresh dill, chopped, plus more for serving
Optional, for serving:

2 medium zucchini, cut into ¼-inch pieces

4 tbsp. extra virgin olive oil, divided

½ tsp kosher salt

¼ tsp freshly ground black pepper

1 cup Israeli couscous

2 tbsp. pine nuts, toasted

½ – 1 cup arugula or other micro greens

Crusty baguette
Procedure
To make salmon: Place salmon filets on a paper-towel lined plate to dry. Let sit 5-10 minutes, then turn over and dry an additional 5-10 minutes. Season salmon on both sides with salt and pepper.
Heat oil in a large nonstick skillet over medium-high heat. When hot, add salmon skin side down. Cook until skin is crisp and salmon easily pulls away from the pan, about 4-5 minutes. Carefully flip and cook other side until salmon registers between 110°F and 120°F for medium rare, about 3 minutes more. Cook longer as desired, but remember the fish will continue to cook a little after you remove it from the pan.
Remove salmon from pan and set aside. Meanwhile, to the same pan add shallots and cook until translucent, about 3 minutes. Add garlic and cook 30 seconds more. Pour in coconut milk or heavy cream and mascarpone cheese, and then stir until cheese has completely melted. Add parmesan, juice from 2 lemons, and fresh herbs, and then whisk to combine. Taste sauce and adjust seasoning as needed. Remove from the heat, and then return salmon to the pan.
Serve immediately with couscous (recipe below), arugula, and crusty bread.
To make couscous: Preheat oven to 375°F. Place zucchini on a rimmed baking sheet, then drizzle with 2 tbsp. extra virgin olive oil and season with salt and pepper. Toss to combine, and then roast until tender, about 15-20 minutes, stirring once halfway through.
Place 1¼ cups water in a sauce pan then bring to a boil. Add couscous, turn heat to a simmer, then cover and set aside until all water has absorbed, about 5 minutes. Fluff couscous with a fork, drizzle in remaining 2 tbsp. extra virgin olive oil, roasted zucchini, and pine nuts. Gently toss to combine. Serve with pan-seared salmon and creamy parmesan sauce.
Join Joanne and Frank on Facebook at
and