Chicken Piccata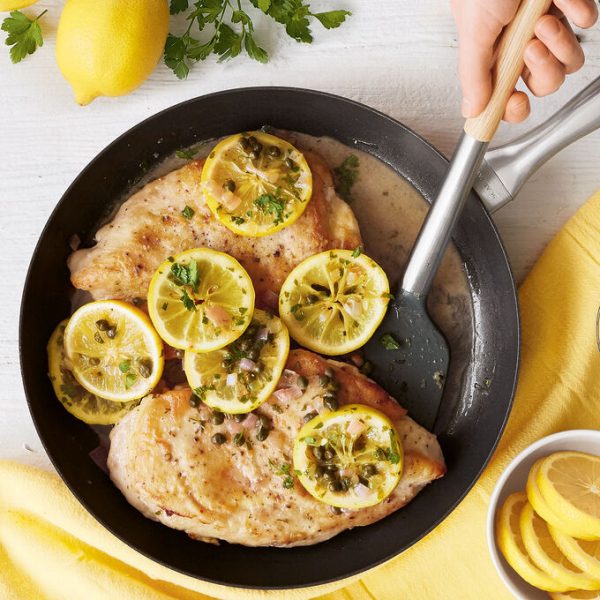 Serves
Makes 4 servings
Ingredients
2 large lemons, halved

4 boneless, skinless chicken breasts (6 ounces each), pounded to ½-inch thickness

Kosher salt and freshly ground black pepper

½ cup all-purpose flour

4 tablespoons extra-virgin olive oil

1 large shallot, trimmed, peeled and minced

1 cup low-sodium chicken broth

2 tablespoons brined capers, rinsed and drained

3 tablespoons unsalted butter, softened

2 tablespoons fresh Italian flat-leaf parsley, minced
Procedure
Traditionally made with veal, piccata is a tart dish featuring a sauce flavored with lemon and capers. Here we've used chicken breasts for a quick and delicious main dish that everyone will love.
Slice one lemon half into ⅛-inch thick slices and set aside. Juice the remaining 3 lemon halves to yield ¼ cup juice. Set aside. Generously season each chicken cutlet on both sides with salt and pepper. Place flour in a shallow pie pan and dredge each cutlet in the flour, shaking off any excess. Place 2 tablespoons oil in a large skillet and heat over medium-high heat until hot but not smoking. Carefully add two cutlets to the pan and cook on one side until golden brown, about 3 to 4 minutes. Using tongs or a fish spatula, flip cutlets and cook until second side is golden brown and chicken is cooked through, another 3 to 4 minutes. Transfer browned cutlets to a large plate and tent with foil to keep warm. Add remaining 2 tablespoons oil to skillet and repeat process with remaining cutlets. Do not clean skillet.
Add shallot to skillet used to cook the cutlets and heat over medium heat. Cook until shallot is fragrant, about 1 to 2 minutes. Add broth and lemon slices, increase heat to high and cook, scraping the bottom of the skillet with a wooden spoon to loosen any browned bits. Simmer until liquid reduces to about ⅓ cup, about 7 to 9 minutes. Add lemon juice and capers to skillet, stirring well to combine. Continue simmering until sauce reduces again to ⅓ cup, about 10 to 12 minutes. Remove skillet from heat and whisk in butter and parsley.
To serve, place each cutlet on a warmed dinner plate. Divide sauce evenly and spoon over each cutlet. Serve immediately.
Join Joanne and Frank on Facebook at
and