Cauliflower Soup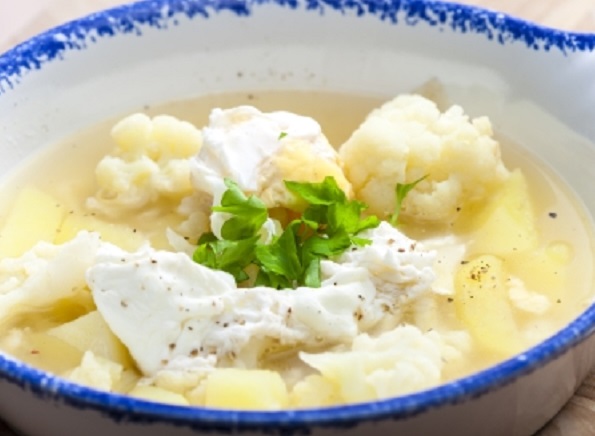 With an abundance of cauliflower at the end of the summer, it's a good time to make this soup. It's quick and easy to make using canned broth and tomatoes. Just season the soup with a little thyme and nutmeg and your ready for a great meal.
This delicious Cauliflower Soup is made with chunks of cauliflower. If you love soup as much as I do, you'll love this recipe.
INGREDIENTS
1 large head of cauliflower
1 yellow onion
2 carrots, sliced
2 cloves of garlic, chopped
2 oz. of pancetta, chopped
2 Tbls of olive oil
1 Tbls of butter
1 15oz. can of diced tomatoes
2 Tbls of tomato paste
1 quart of chicken broth
1/2 tsp of freshly grated nutmeg
1 tsp of dried thyme
1/2 tsp of salt
1/2 tsp of freshly ground black pepper
1/2 cup of freshly grated Parmesan cheese
1 pound of ditali pastaPREPARATION

Break the cauliflower up into florets and set aside.
In a large pot sauté the onions, carrots, garlic and pancetta, in the olive oil and butter for 10 minutes.
Add the cauliflower, tomatoes, tomato paste, thyme, nutmeg and broth.
Bring to a boil, reduce and simmer for 45 minutes.
Season with salt and pepper.
Bring 4 quarts of salted water to a boil and cook the pasta until al dente, around 8 minutes.Place the pasta in a bowl and top with soup. Serve with parmesan cheese and a nice Shiraz.. Serves 4 to 6 people.
recipe from http://www.great-chicago-italian-recipes.com/cauliflower_soup.html