Italian Lentil Salad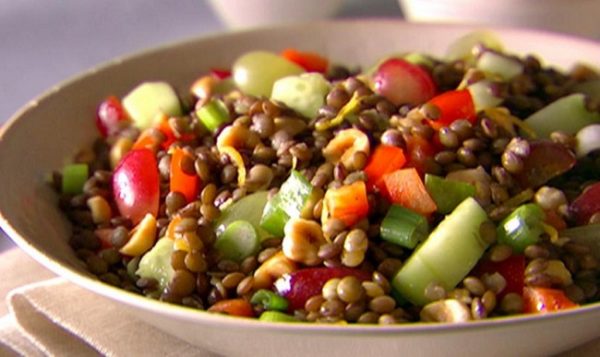 Italian Lentil Salad
Serves: 6
Ingredients
Salad:
1 pound green lentils (recommended: Sabarot)
2 scallions, chopped
1 cup halved seedless green grapes
1 cup halved seedless red grapes
1 cucumber, peeled, seeded and diced
1 red bell pepper, seeded and diced
1/2 cup coarsely chopped skinned and toasted hazelnuts
2 teaspoons lemon zest (from about 2 lemons)
Vinaigrette:
1/3 cup fresh lemon juice (from 1 to 2 lemons)
1/3 cup extra-virgin olive oil
1/2 teaspoon kosher salt
1/4 teaspoon freshly ground black pepper
Directions
For the Salad:
Bring a large pot of salted water to a boil over high heat. Add the lentils and cook until tender, stirring occasionally, about 18 to 20 minutes. Drain and let cool for 5 minutes. Place lentils and remaining salad ingredients in a large salad bowl.
For the Vinaigrette:
Place the lemon juice in a small bowl. Slowly add the oil, whisking constantly, until combined. Season with salt and pepper, to taste
Pour the vinaigrette over the salad and toss well.
Serves: 6; Calories: 480; Total Fat: 20 grams; Saturated Fat: 2 grams; Protein: 19 grams; Total carbohydrates: 61 grams; Sugar: 11 grams; Fiber: 14.5 grams; Cholesterol: 0 milligrams; Sodium: 173 milligrams
Recipe courtesy Giada De Laurentiis