Pasta with Dandelion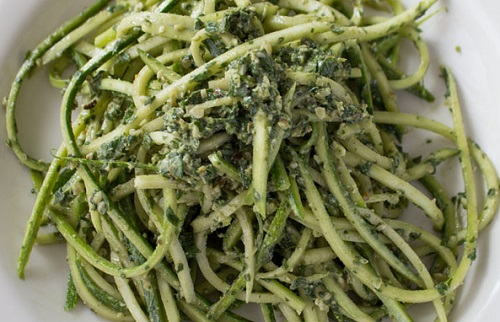 Ingredients
    1 lb of tonnarelli, pici, spaghetti,
    1 bunch of dandelion
    1 Tbsp extra virgin olive oil
    1 to 1 1/2 cups grated pecorino cheese
    1 tsp to 2 Tbsp freshly ground black pepper, to taste
    Sea salt or Kosher salt
Instructions
Prepare the dandelion.
    Wash and sort the dandelion leaves and rinse well, but don't dry them.
Chop the leaves into pieces.
Cacio e Pepe
    Heat about 1/4 cup (2 oz) of water to boiling in a small, lidded pot. Add the dandelion and cover to steam for a few minutes, turning the leaves a few times. Make sure the water doesn't completely evaporate, and cook tender leaves for about 6 to 7 minutes, longer for tougher leaves.
    Remove from heat and drain if there's any water left in the bottom, then squeeze the rest of the water from the greens. Place in a small food processor with a few pinches of salt, and purée.
Prepare the pasta.
    Cook the pasta according to the directions on the package, except use less water than usual. It's important to have lots of starch for this dish.
    Put the extra virgin olive oil and a small amount of the pasta water into a non-stick skillet, or wok, without turning on the burner. Add the grated cheese and pepper.
    Add the pasta using a pasta fork (do not drain the pasta in a colander), and begin stirring the pasta with a wooden fork off the heat.
    Continue to add water as necessary until a sauce begins to form on the pasta.
Add the Dandelion
    Now add the puréed dandelion and mix well.
 Serve immediately..