Fettuccine with Tomato-Cream Sauce
Fettuccine with Tomato-Cream Sauce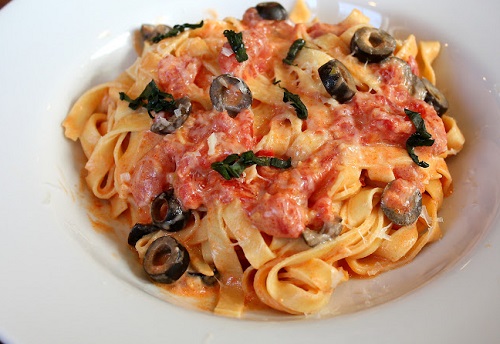 Ingredients
    8 ounces uncooked fresh fettuccine
    4 quarts boiling water
    1/2 teaspoon salt, divided
    1 tablespoon olive oil
    3 tablespoons coarsely chopped garlic
    1 (28-ounce) can whole peeled San Marzano tomatoes, drained and crushed
    3 ounces 1/3-less-fat cream cheese
    1/4 cup black olives, pitted and sliced
    1/4 teaspoon crushed red pepper
    1/4 cup small fresh basil leaves
    1/2 ounce Parmigiano-Reggiano cheese, shaved
Preparation
 Cook pasta in 4 quarts boiling water with 1/4 teaspoon salt for 4 minutes or until noodles are almost al dente. Drain pasta through a sieve over a bowl; reserve 1 1/3 cups pasta cooking water.
 Heat a large skillet over medium-low heat. Add oil to pan; swirl to coat. Add garlic; cook 2 minutes or until very fragrant and tender, stirring occasionally. Stir in remaining 1/4 teaspoon salt and tomatoes; cook 3 minutes, stirring occasionally.
Stir in reserved 1 1/3 cups pasta water; bring to a boil. Add cream cheese; stir until smooth.
Add pasta, olives, and red pepper;
Cook 3 minutes or until pasta is al dente, tossing to coat. Divide pasta mixture among 4 shallow bowls; top each serving with 1 tablespoon basil. Divide Parmigiano-Reggiano evenly among servings.