Andrea Bocelli & Sarah Brightman "Time to Say Goodbye"
Andrea Bocelli & Sarah Brightman
"Time to Say Goodbye"
*
"Con te partirò"  ("With you I shall leave") is an Italian song written by Francesco Sartori (music) and Lucio Quarantotto(lyrics). It was first performed by Andrea Bocelli at the 1995 Sanremo Music Festival and recorded on his album of the same year, Bocelli. The single was first released as an A-side single with "Vivere" in 1995, topping the charts, first in France, where it became one of the best-selling singles of all-time, and then in Belgium, breaking the all-time record sales there.
A second version of the song, sung partly in English, released in 1996 as "Time to Say Goodbye", paired Bocelli with British soprano Sarah Brightman, and achieved even greater success, topping charts all across Europe, including Germany, where it became the biggest-selling single in history. Brightman and Bocelli produced a version with Brightman singing in German and Bocelli in Italian, with this version being available on the CD "Time to Say Goodbye". That version alone has now sold more than 12 million copies worldwide, making it one of the best-selling singles of all time.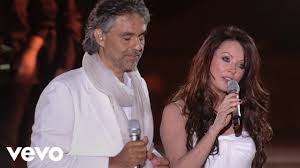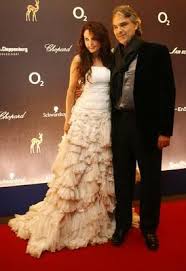 Bocelli also recorded a full Spanish version of the song, titled "Por ti Volaré" (For You I Will Fly). Under all those three versions, the song is considered Bocelli's signature song.
*
The song's original single release by Polydor Records was not commercially successful in Italy, and received little radio airplay there. Elsewhere, however, it was a massive hit.
In France and Switzerland, the single topped the charts for six weeks, earning a triple Gold sales award.
In Belgium, it became the biggest hit of all-time, spending
12 weeks at No. 1.
*
Join Joanne and Frank on Facebook at
and