Anguille alla Marchigiana Recipe
Anguille alla Marchigiana Recipe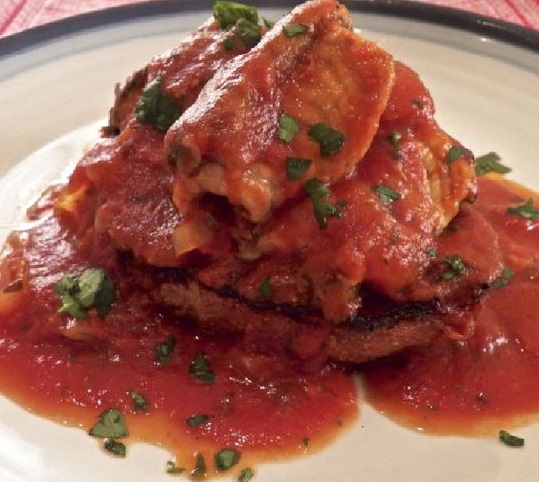 Ingredients
3 lbs. eel, cleaned with head & tail removed, chopped in 2 – 3 inch pieces.

4 tbsp extra virgin olive oil, divided

1 large sweet onion, sliced thin

1 clove garlic, minced or grated

4 tbsp fresh parsley, chopped, divided

1 large can (28.5 oz) tomatoes

1 stem fresh basil

1 cup white wine

salt & pepper

thickly sliced, toasted Italian bread, for serving.
Directions
In a large sauce pan, heat 2 tbsp of olive oil over med-high heat. Add onion and sauté for about 3 minutes before adding 3 tbsp of the chopped parsley. Continue to sauté until the onion is translucent, about 5 more minutes.

Add garlic and sauté for a minute.

Add tomatoes, basil, season lightly with salt & pepper, and bring pan's contents to the boil before reducing to a simmer.

After sauce has simmered for 15 minutes, heat the remaining oil in a large frying pan over med-high heat.

Once the oil is hot, add the pieces of eel and sauté for about 7 minutes, being careful to insure that the pieces are evenly cooked.

Carefully remove the eel and place it in the tomato sauce. Season lightly with salt & pepper.

Use the white wine to deglaze the frying pan. Continue to cook the wine until it is reduced by half. Add the wine reduction to the tomato sauce and carefully stir the pan's contents.

Increase the heat to high, bring the sauce to the boil, then reduce the heat and simmer for another 15 minutes.

Taste and adjust seasoning, if needed, one last time.

To serve, set a piece of toasted bread on each plate and place eel pieces on top, followed by a generous amount of sauce. Garnish each serving with some of the remaining chopped parsley.