Calamari Salad Recipe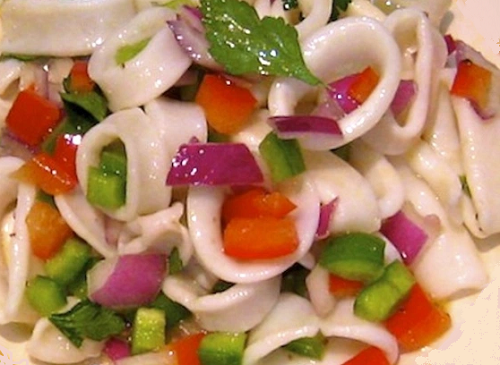 Ingredients
squid, cleaned and cut into rings (halve tentacles, if using)

green bell pepper, diced

red bell pepper, diced

red onion, diced

extra virgin olive oil

lemon juice

fresh parsley

salt & pepper, to taste
Directions
Fill a large saucepan with water and bring to a rolling boil over high heat.

Add the calamari, stir, and turn off the heat.

After one minute remove from water and place in an ice bath to chill. (Calamari may be "held" here for a couple of hours until ready to be served.)

Once fully chilled, drain, place calamari on paper towels, and pat dry before dressing immediately with lemon juice, olive oil, parsley, salt and pepper.

Toss and serve.