Arrabbiata Garlic Chicken with Potatoes
Arrabbiata Garlic Chicken with Potatoes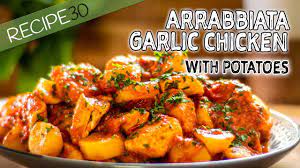 Ingredients
3 medium size chicken breasts
8 medium size kipfler or small waxy potatoes
1 glass or cup of dry white wine
2 cans – 28oz – 800g of peeled tomatoes
3 cloves of garlic
1 tsp oregano
4 tablespoons of extra virgin olive oil
1 tsp hot chili flakes
Salt
Handful of fresh parsley leaves
½ cup grated pecorino or Parmesan cheese
Steps
 Step 1 Wash, peel and dice your potatoes into large cubes.  Place in a pot covered with cold water, a little salt and simmer until almost tender.  Once cooked but still quite firm, drain and set aside.
 Step 2 Cut chicken breasts into nugget sized pieces.  Season with salt.
 Step 3 In a frying pan on high heat, add olive oil. Place half the chicken pieces in the pan and cook until lightly browned, set aside and repeat step with the other half.  Return all the cooked chicken to the pan and add the chili, oregano and minced garlic and leave to sweat 30 seconds.  Deglaze with a cup of white wine.  Cook on a high heat until the wine has evaporated.
 Step 4 Add the previously chopped peeled tomatoes, season with salt, add cooked potatoes. Cook for approx.  15 minutes on low heat, until the sauce has thickened and the potatoes are fully cooked.
 Step 5 Sprinkle with plenty of chopped parsley and grated pecorino cheese, mix well and serve.