Italian Sausage Rustic Stuffing
Italian Sausage Rustic Stuffing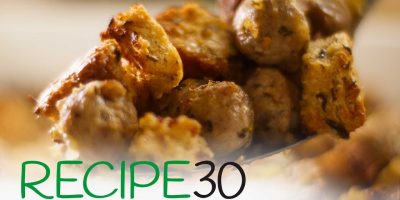 This Italian Sausage Rustic stuffing by Recipe 30 is a great complement to your Thanksgiving dinner. It's so good, you will be making it more than once a year.
Ingredients
6 Italian sausages

Half loaf of bread (maybe more if a small loaf)

3 celery sticks (1 ½ cup)

2 brown onions (1 ½ cups)

2 cups chicken stock

A few sprigs of fresh oregano (one teaspoon dry)

2 garlic cloves

140g – 1 cup salted butter

2 tbsp olive oil
Instructions
 Step 1 Slice the loaf of bread and cut into dice (the rougher the better). Place on a baking tray and bake in oven for 15-20 min at 300°F – 150°C or until toasted. Set aside once done.

 Step 2 Cut the Italian sausages into bite size pieces, or if you prefer ground, cut the sausages in half, squeeze each end to extract meat. Place in a frying pan on medium to high heat with the olive oil and cook until nice and browned. If using mince, use a fork to break apart.

 Step 3 Peel and chop the onions finely and add to sausages. Turn heat to low and leave to sweat.

 Step 4 Add the chopped oregano, minced garlic and finely chopped celery sticks. Cook for 1 minute on low heat. Stir well so nothing catches on the bottom. It's the brown crust that will give you the flavour.

 Step 5 Deglaze the bottom of the pan by adding the chicken stock. Turn up the heat and leave to reduce until almost dry.

 Step 6 Transfer the sausage mixture to a baking dish. Add the croutons on top. (or leave to cool and use as stuffing in your turkey).

 Step 7 Melt the butter either in a saucepan or microwave and pour over croutons and sausage mix. Mix well and bake in oven for 15-20 minutes at 300°F – 150°C.