Artichoke Risotto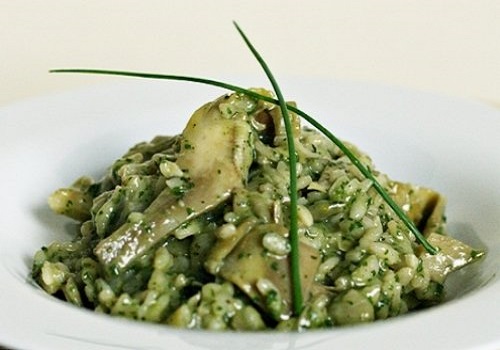 Ingredients
6 cups chicken broth

2 Tbls butter, divided

2 Tbs extra-virgin olive oil

1 cup finely chopped onion

2 cloves of garlic, finely chopped

1 shallot, chopped

10 baby artichokes, trimmed, quartered

½ tsp of salt

1 tsp of fresh ground black pepper

1 1/2 cups arborio rice

1/2 cup dry white wine

3/4 cup fresh grated Parmesan cheese

¼ cup of fresh Italian flat leaf parsley, chopped
Preparation
In a medium saucepan bring the broth to simmer.

Add the artichokes and cook for around 10 minutes while preparing the rice

In heavy pot over medium-high heat, melt 1 Tbs of butter in the olive oil.

Add the onion, garlic and shallot and sauté until soft and golden, about 5 minutes.

Add the artichokes to the pot.

Cover and cook until artichokes begin to brown, stirring often, about 8 minutes.

Add rice and stir 2 minutes.

Add the white wine and stir until liquid is absorbed, about 1 minute.

Add 1 1/2 cups warm broth and stir until absorbed.

Add more broth 1/2 cupful at a time and stir until the liquid is absorbed. Continue adding the liquid until all the broth is used. Stir often, until rice is just tender and mixture is creamy, about 20 minutes.
Serves 4 People