Asparagus Frittata with Leeks and Ricotta
Asparagus Frittata with Leeks and Ricotta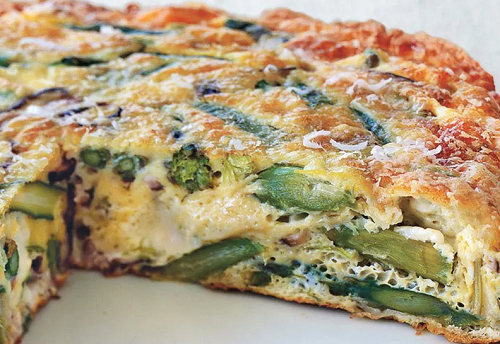 Serves: 6 (definitely more if used as an appetizer)
Prep: 40 minutes
Cook: 10 minutes
Ingredients
1 bunch asparagus – trim the ends and peel if needed. Drizzle with olive oil, add salt and pepper, and roast at 400 degrees until tender – about 10-12 min. depending on the thickness of your asparagus.Set aside.
3 Leeks (About 2 1/2 c. sliced) rinsed and cleaned of any sand
2 Tbsp. Butter melted
1 Tbsp. Olive Oil
1 Whole shallot chopped (that means use the whole bulb with the multiple cloves)
2 Tbsp. Butter
1 Tbsp. Olive Oil
12 Large Eggs – beaten
1/4 c. Heavy Cream
Salt and pepper to taste
3/4 c. Grated or shredded Pecorino Cheese
1 Tbsp. chopped fresh Rosemary
1 c. Whole Milk Ricotta – mashed a little with a fork to soften
Extra Virgin Olive Oil for drizzling
Instructions
After roasting the asparagus, cut off the ends leaving the spear at about 3-4 inches long. Chop the ends into pieces about an inch long. Keep the spears and the chopped ends separate.
Leeks: slice off and discard the root. Cut the bright green part off and discard. Cut the remaining leek in sliced rounds, drop in a bowl with cold water and swish around to clean the sand from the rounds. Rinse again if needed and drain off the water. Pat the leeks dry.
Toss the leeks in the melted butter and oil, add salt and pepper and roast at 400 or saute, if preferred until tender.
Put butter and oil in a saute pan, heat and add chopped shallots. Cook until tender – about 5 minutes.
Add the cream, salt, pepper, cheese, and Rosemary to the beaten eggs and mix together and pour into a large oiled fry pan.
Distribute the cooked leeks and chopped roasted asparagus throughout the eggs in the pan and press them in a little to make them sink.
Spoon dollops of ricotta into the eggs all around. Do not mix together. Just let the dollops sit there.
Place the roasted asparagus spears around the surface of the frittata in a decorative manner that suits you.
Preheat the oven to 350 degrees.
Cook the frittata on the top of the stove at medium to medium high until partially set. The bottom and sides should be set with the middle runny.
Place the fry pan in the preheated oven and bake until set in the middle – about 10 minutes.
Slide the frittata out of the pan onto a plate. It should come right out with a little nudge from a spatula. Drizzle your best Extra Virgin Olive Oil over the top before serving.