Short Rib Hash and Eggs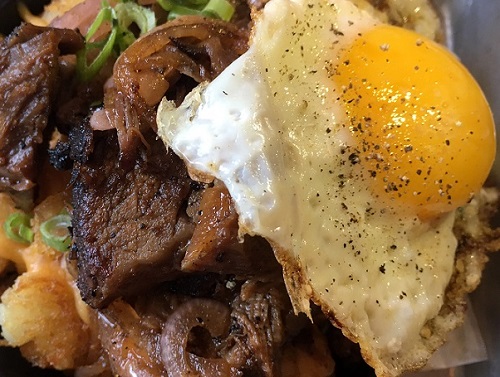 Serves: 6
Prep: 15 minutes
Cook: 3 hours 15 minutes
Ingredients for Ribs
2 Tbsp. Oil
2 lb. Short Ribs
Salt and Pepper
1/4 C. Chopped Pancetta
1 Onion – chopped
8 Baby Carrots – chopped
2 Stalks Celery – chopped
2 Cloves Fresh Garlic – chopped
2 Cups Chianti
3 Cups Water
2 Tbsp. Tomato Paste (dissolved in the wine or water)
1 Slice Orange Peel (cut off the pith or white portion)
1 Bay Leaf
1 Tbsp. Fresh Thyme Leaves
2 Tbsp. Fresh Rosemary Leaves
3 Fresh Sage Leaves
1/4 Tsp. Allspice
1/2 Tsp. Sugar
Instructions for Ribs
Salt and pepper your short ribs and brown them in the oil. Remove the browned ribs to a plate and proceed in the same pan.
Cook the chopped pancetta in the pan for about 3 minutes.
Then add the onion, carrots, celery, and garlic to the pan and cook about 5 minutes more at medium high.
At this point if you decide to use your slow cooker, you can pour the ingredients in the cooker and finish the cooking there.
Add the wine, water, tomato paste dissolved in the wine or water, orange peel, bay leaf, herbs, allspice, and sugar.
Bring to a boil and reduce heat to a good simmer and slowly cook the ribs, uncovered for about 3 hours or until the meat is very tender and almost falling off the bones. Remove and discard the bay leaf and orange peel.
Remove the ribs to a platter and remove the meat using 2 forks to shred it like you would do for pork barbeque. You can also use a knife and fork and cut it in little pieces. Discard the bones. Skim extra fat off the top of the remaining sauce.
Using an immersion blender, regular blender, or food processor – your choice – blend the sauce liquid. You will see that it almost immediately thickens and changes to a "bronzey" orange color as you see in the photo. Add Salt and Pepper to taste, and reserve your sauce and your meat separately until ready to make your hash. You can make the ribs and sauce ahead or freeze them if you like.
Ingredients for the hash
2 Tbsp. Olive Oil
1 Large peeled Potato cooked to firm but fork tender and diced
1 Medium Sweet Potato peeled and cooked to firm but fork tender and diced
1/2 Large Onion – chopped
1/2 Green Pepper chopped
1/2 Red Pepper chopped
Salt and Pepper to taste
1/3 Cup Reserved Sauce from the Short Ribs
All of the shredded or chopped Short Ribs meat
A fried egg for each dish and grated cheese to serve
Instructions for the hash
In a non-stick pan cook the onion and peppers in the oil until tender – about 8 minutes.
Add the chopped potatoes and sweet potatoes.
Salt and pepper to taste and toss a minute in the pan.
Then add the meat and the sauce and toss gently until combined and heated through. You can add more sauce if you like, but you don't want to make this "saucy". The sauce basically just adds flavor to the hash.
Top each portion with a fried egg and serve with grated cheese.