Baked Rigatoni Rigatoni al Forno Recipe
Baked Rigatoni Rigatoni al Forno Recipe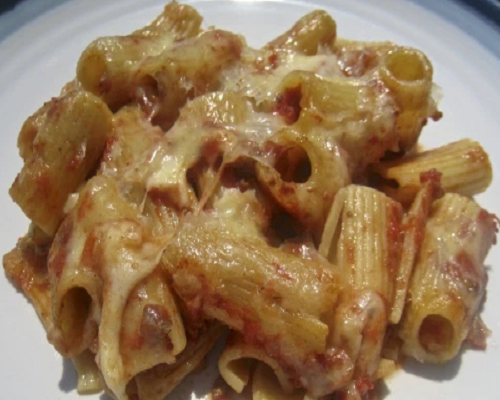 Ingredients
1 lb rigatoni

1 quart tomato sauce (vegetarians use marinara)

8 oz Mozzarella

8 oz Asiago cheese

4 tbsp butter, cut into chunks + a little more to grease the baking dish (optional)

¾ cup Pecorino Romano cheese, grated

fresh parsley, chopped, for garnish (optional)
Directions
Pre-heat oven to 350˚F.

Lightly grease a 9 X 13″ baking dish with cooking spray or butter.

Add rigatoni to a large pot of heavily salted, boiling water. Cook the pasta for half of the time suggested on the package for al dente pasta. Drain and hold until needed.

Warm sauce and maintain a low simmer.

Slice and cut the mozzarella cheese into ½ inch cubes. Set aside.

Use a box grater to shred the Asiago cheese. Set aside.

Once the pasta has been semi-cooked and drained, return the rigatoni to the now empty pot.

Add the butter and then the Pecorino Romano to the hot rigatoni, stirring after each until the pasta is well-coated.

Add the tomato sauce to the pot and stir.

Add the mozzarella to the pot and gently stir until evenly distributed.

Place the pasta in a greased 9 x 13″ baking dish. Evenly sprinkle the shredded Asiago cheese on top.

Bake in pre-heated 350˚F oven for 20 to 25 minutes or until the Asiago cheese is melted to your liking.

Allow to rest 5 minutes before serving, garnished with parsley, if desired.