Home-Made Cream Cheese Recipe
Home-Made Cream Cheese Recipe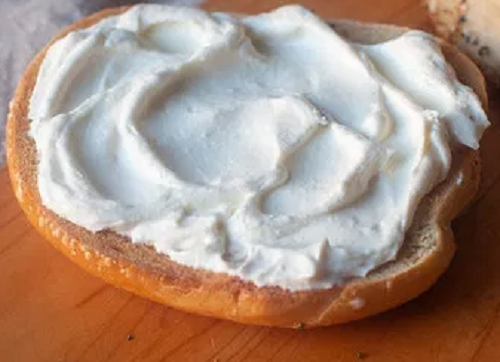 yield: 2 pounds
Ingredients
1 quart whole milk – never ultra-pasteurized

1 quart whipping cream – never ultra-pasteurized

1/4 cup cultured buttermilk – no substitutes

1/2 tablet Rennet dissolved in 1/4 cup distilled water

1 to 2 tsp table salt, more or less to taste – optional but strongly recommended
Directions
Place the milk and cream into a clean, sterile pot with a lid and heat over low to med-low heat until it reaches 70˚ . Stir frequently.

Add buttermilk, mix thoroughly, cover, and set aside for 15 minutes.

Add rennet, stir, set aside for at least 8 hours, or overnight, at a room temperature from 70 to 75˚.

If properly prepared, the mixture should have gelled after waiting the specified time. Sprinkle the salt over the top of the gelled mixture. Briefly use a whisk to gently stir the mixture, creating pea-sized curds.

Cover a large strainer with a clean, sterile handkerchief.

Gently pour the curds into the handkerchief and let drain for 30 minutes.

Grab the handkerchief's 4 corners, tie them, and use them to hang like a sack over the sink or a large pot. If your kitchen is exceptionally warm, place everything into the fridge to drain.

Drain until the cream cheese is the consistency you prefer. To hurry the process, carefully twist the "sack" to force the whey out of the cheese.

Place cheese into container(s) and refrigerate. The cream cheese will remain fresh for about 1 week, less if unsalted.