Smothered Pork Chops Recipe 
Smothered Pork Chops Recipe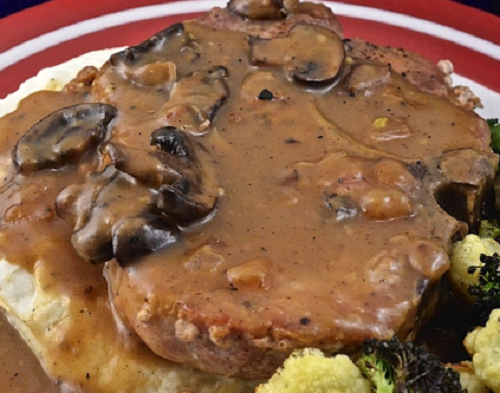 Smothered Pork Chops Recipe 
Ingredients
2 tbsp olive oil to start, possibly more later in the process

pork chops, medium thickness, 1 per serving

1 small to medium onion, sliced

6 mushrooms sliced

2 garlic cloves, finely diced or grated

¼ cup flour

1½ cups chicken stock – vegetable or pork stock may be substituted

¼ cup milk – buttermilk or cream may be substituted

salt and pepper, to taste
Directions
Heat olive oil in a large fry pan over medium heat.

Once oil is hot, place pork chop(s) into the pan and cook until browned on each side — about 5 minutes per side. Remove to a plate.

Place onion into the pan and sauté for a couple of minutes before adding the mushrooms. Continue to sauté until onions are translucent and mushroom cooked to your liking.

Add garlic and continue to sauté for about a minute.

Remove all but 4 tbsp of oil from the pan. If need be, add enough oil to the pan so that the amount of fat/oil in the pan equals the amount of flour added in the next step.

Add the flour to the pan, stir, and make a roux. No need to make a dark roux but it should be cooked for a couple of minutes.

Add the chicken stock to the pan in thirds, mixing well between additions to eliminate lumps.

Reduce heat to med-low, add the milk, and stir to combine.

Season with salt and pepper to taste.

Return the pork chops to the pan, spoon gravy over them, and heat until cooked to your satisfaction, usually 5 to 10 minutes, Turn the chops mid-way through.

Serve immediately with plenty of gravy for smothering.