Pesto Pasta Salad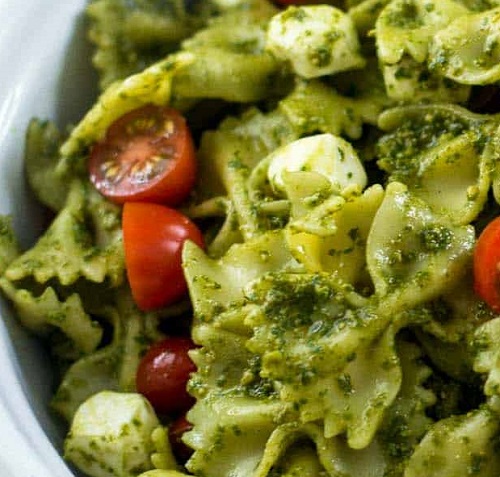 Ingredients:
For the Salad:
1 lb Farfalle pasta
1/2 cup sun dried tomatoes packed in oil, drained and sliced
1 cup Kalamata olives, sliced
One 8 oz ball of fresh mozzarella, diced
For the Pesto:
1 cup fresh basil leaves, tightly packed
1/2 cup extra virgin olive oil
1/4 cup parsley
2 cloves garlic
1/3 cup pignoli nuts
1/2 cup grated Parmigiano Reggiano Cheese
1/2 tsp salt
Directions:
Prepare the Pesto:
Place all ingredients in a blender and whirl until a thick uniform paste is formed, add more olive oil if paste is too thick. This amount is enough for 1 lb pasta. Pesto may be stored in refrigerator for several weeks or in the freezer for several months.
Place in a jar or container and coat with a thin layer of olive oil, cover tightly.
Prepare the Salad:
Cook pasta in boiled salted water and drain.
Toss with some oil from the sun dried tomatoes. (You can stop here and do this the day before or a few hours before and let cool.)
Toss pasta with pesto, sun dried tomatoes, olives and mozzarella. Refrigerate and serve cold