Bell peppers rolls with anchovies
Bell peppers rolls with anchovies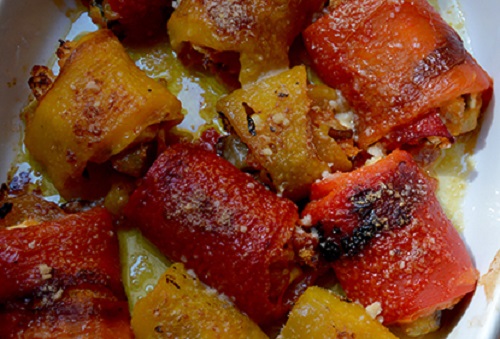 Ingredients
For about 6-7 rolls
2 bell peppers

1 cup breadcrumbs

1 teaspoon unsalted capers

2 canned anchovies

1 garlic clove

3 tablespoon olive oil

salt and pepper to taste
Directions
Put in the oven, pre heated at 390°F, the bell peppers.

Let them roast until they're soft

When peppers are warm peel them and cut them in large stripes.

In a mixer put breadcrumbs, capers, garlic, anchovies, salt and pepper and olive oil.

Blend until everything is pulverized. Put some mixture on the peppers stripes and roll them.

Put all the rolls on a baking pan, sprinkle with the rest of the breadcrumbs mixture and put in the oven just the time to brown the bell peppers.

Let them cool down and serve.