Black Cod in Tomato and Lemon Confit (Sauce)
Black Cod in Tomato and Lemon Confit (Sauce)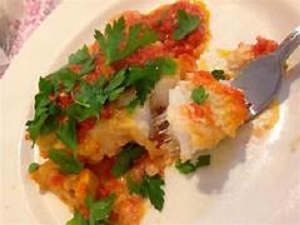 Ingredients / 4 people
4 pieces of Black Cod or another thick meaty fish.
3 tablespoons olive oil plus one tablespoon Vegetable oil placed in a skillet, enough to accomodate your ingredients.
3 cloves of garlic diced and place in a pan with the olive oil
2 teaspoons of salt
2 teaspoons black pepper
A pinch of red pepper flakes
One cup of all purpose flour (spread in a plate)
One cup of dry white table wine 
12 ounces good quality, diced tomatoes and their juice
4 thin slices of lemon (washed with peel on)
Handful of parsley or basil
Plenty of crusty bread
Method:  
Place your skillet on medium heat.   Coat your fish fillets with, salt, pepper,  flour and shake off the access.  Add your olive oil and garlic and saute until fragrant.  Slip your fish fillets gently in the pan.   Cook for about 3-4 minutes on each side, being careful not to burn.   If things are to hot, by all means, turn your heat down and slide your pan away from the fire to let things cool down.   Carefully remove your fillets from the pan.   You should see a light golden crust.  Do not worry if some of your flour has come away from the cod.   Not going to make a bit of difference overall except to help thicken your sauce confit. 
At this time, add your cup of white wine to help loosen the bits from the pan.   Add your tomato's, juice, and slices of lemon.  Add a pinch of red pepper flakes.  Cook for about 7-8 minutes on Simmer.  You will notice the oil separating from the tomatoes and lined around the rim of the pan. 
Slip your fish fillet back in and spoon some of the sauce over the fillets. 
Place in the pre-heated/oven on Broil  (hi), for about 5-7 minutes or so, being careful not to dry out.  Check it at the 3 minute mark and spoon your sauce-confit over your fish and broil for an additional 3 minutes. 
Remove from oven, sprinkle some fresh herbs and serve.  I was very tempted to use the sauce for Pasta but sometimes good, crusty bread is all you need.  
Be sure and let rest before serving.   You can discard the lemon slices and serve this fish with fresh lemon slices.   The lemon addition, slightly sweetens the sauce.   Enjoy! Buon Appetito