Cacio e Pepe with Asparagus And Peas
Cacio e Pepe with Asparagus And Peas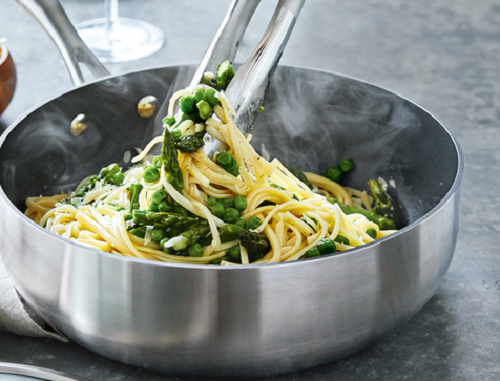 As any Italian food lover will tell you, there's no improving upon a perfect cacio e pepe—pasta tossed with tangy aged cheese and plenty of black pepper. But in springtime when asparagus and peas are in season, even Romans aren't above occasionally tossing them into the pan. This is a fairly rich pasta, so think light when planning the rest of the meal. A bitter green salad made with arugula or dandelion works well, with maybe some vivid, springy flavor of sorbet (lemon, rhubarb, or strawberry) for dessert.
Ingredients
Makes 2 to 3 servings
    Kosher salt, as needed
    8 ounces spaghetti or linguine
    8 ounces pencil-thin asparagus, cut into 1-inch pieces (about 1 cup)

    ⅔ cup peas (thawed if frozen)
    2 tablespoons unsalted butter
    ½ tablespoon very coarsely ground black pepper
    1 ounce young pecorino, such as Pecorino Toscano, shredded (¼ cup), plus more for serving
    1 ounce Pecorino Romano, shredded (¼ cup), plus more for serving
    2 ounces Parmesan cheese, grated (½ cup), plus more for serving
If you can't find Pecorino Toscano, you can use a Manchego, or more of the Parmesan.
    Coarse sea salt to taste
    Extra-virgin olive oil, for serving
    Snipped fresh chives, preferably with blossoms, for garnish
Procedure
Bring a large pot of heavily salted water to a boil.
Add the spaghetti and cook until it is just shy of al dente, about 2 minutes less than the package directions (it should be slightly underdone to your taste because you'll finish cooking it in the sauce). During the last minute of cooking, add the asparagus and peas. Drain, reserving ½ cup of the pasta cooking water.
In a 12-inch skillet, melt 1 tablespoon of the butter and add the pepper. Sauté until fragrant, about 1 minute. Add ¼ cup of the reserved pasta water and the remaining 1 tablespoon butter to the skillet. Stir until the butter has melted and the sauce is beginning to thicken, about 30 seconds.
Add the pasta, peas, asparagus, and all three cheeses, and toss until the cheese has melted and the pasta has finished cooking, about 1 minute. Add more of the reserved pasta water if the skillet seems dry. Season with coarse sea salt to taste. Serve, sprinkling each portion with more cheese and drizzling it with olive oil. Garnish with the chives.
Reprinted from Dinner: Changing the Game copyright © 2017 by Melissa Clark. Photographs copyright © 2017 by Eric Wolfinger. Published by Clarkson Potter/Publishers, an imprint of Penguin Random House LLC..
https://www.surlatable.com/cacio-e-pepe-with-asparagus-and-peas/REC-382773.html?cgid=WRC-429204&start=-23