Crab and Zucchini Spaghetti
Crab and Zucchini Spaghetti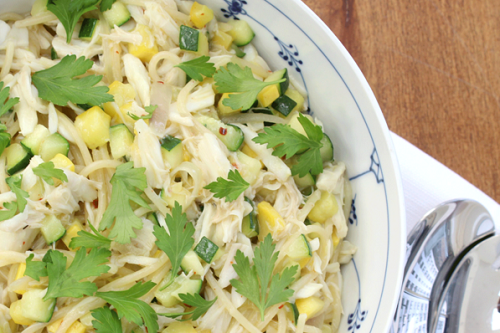 Ingredients
Makes 4 servings
1 small shallot

1 medium yellow squash

1 medium zucchini

2 garlic cloves

3 tablespoons extra-virgin olive oil

¼ cup chicken stock

¼ cup white wine

½ cup parsley

1 pound lump crab meat

3 tablespoons butter, unsalted

Kosher salt

1 pound dry spaghetti

Salt, to taste

Fresh ground black pepper to taste

½ teaspoon crushed red pepper flakes

Juice and zest of ½ a lemon
Procedure
Prep ahead:. Peel and slice the shallot, then seed and dice the yellow squash and zucchini, Thinly slice the garlic and combine with the olive oil. Reserve. Combine chicken stock with white wine and reserve. Chop the parsley and reserve.

Remove the lump crab meat from the container and check for small bones. separate the meat from liquid and set both aside

Bring a large stockpot of salted water to a rolling boil. Add the spaghetti and agitate it slightly to prevent sticking. Continue to cook less 2 minutes per the package instructions.

Meanwhile, in a large saucepan, heat ½ of the olive oil and sliced garlic, zucchini and squash. Cook until the garlic is fragrant. Add the white wine and chicken stock mixture, reduce by ¾, then add the crab liquid. Reduce heat to a slow simmer. Season with salt and pepper.

Add the partially cooked pasta, crab meat and butter to the pan with a few tablespoons of pasta water. Add the red pepper flakes and butter. Continue to cook, stirring frequently, until the sauce thickens and the pasta is cooked al dente.

Finish the pasta with the lemon juice and zest. Season as desired.

Once plated, garnish with the parsley and drizzle with the remaining extra virgin olive oil.
https://www.surlatable.com/