Herb Crusted Pork Chops with Fava Bean and Corn Succotash
Herb Crusted Pork Chops with Fava Bean and Corn Succotash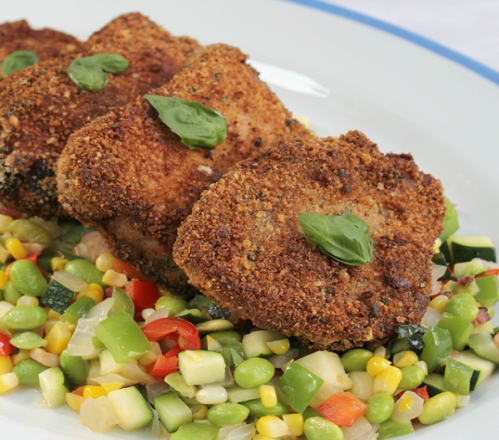 Ingredients
Makes 4 servings
3 tablespoons fresh rosemary

3 teaspoons picked thyme

1½ cup panko breadcrumbs

3 slices thick-cut bacon

1 tablespoon extra-virgin olive oil

1 large yellow onion

1 red bell pepper

1 green bell pepper

1 medium zucchini

2 garlic cloves

3 cup fresh corn kernels

½ cup plum tomato

1 (10-ounce) package frozen fava , thawed and rinsed

½ cup fresh basil, torn

3 tablespoons butter, unsalted

4 (6- to 8-ounce) boneless pork chops

3 tablespoons Dijon mustard

2 tablespoons canola oil

1 tablespoon red wine vinegar

Salt, to taste

Fresh ground black pepper, to taste
Procedure
Prep Ahead: Mince the rosemary and combine with thyme and panko breadcrumbs in a Large Pro For Home Container, without the tray,. Mix thoroughly. Peel and small dice the onion, seed and small dice both peppers and zucchini, and thinly slice the garlic, then combine with the corn in a Medium Pro For Home Container, with tray. Seed and small dice the tomatoes and combine with lima beans in a small bowl. Dice the bacon and hold in a small bowl with the olive oil.
Preheat oven to 375°F.
On the tray insert with the overturned lid for the Large Pro For Home Container, season the pork chops with salt and fresh ground black pepper. Spread Dijon mustard evenly over pork chops. Cover the pork chops by pressing them into the panko mixture and flipping.
Heat a large ovenproof sauté pan over medium high heat and coat with canola oil. Add the pork chops and cook until golden brown, then flip the pork chops and place the pan in the oven. Let cook in the oven for about 8 to 10 minutes or until desired doneness is achieved.
While the pork is in the oven, heat extra virgin olive oil and bacon over medium heat. Cook to render out the fat until it is golden brown. Remove the bacon from the pan and add the garlic, onion, zucchini, corn and bell pepper. Cook until the vegetables are tender, then add the tomatoes and the fava or lima beans. Add the butter and reserved bacon, then stir until all the ingredients are incorporated evenly. Season with salt and pepper.
Finish the succotash with red wine vinegar and basil. Serve with the cooked pork chops.