Cannoli cupcakes with vanilla bean frosting
Cannoli cupcakes with vanilla bean frosting
Ingredients
2-½ cups Flour
2-½ teaspoons Baking Powder
½ teaspoons Salt
1-¾ cup Sugar
½ cups Butter, Softened
3 whole Eggs
1-½ teaspoon Vanilla Extract
1 Tablespoon Marsala Wine
1 cup Milk
1 cup Ricotta Cheese
1 teaspoon Orange Zest
2 Tablespoons Powdered Sugar
1 cup Chocolate Chips
_____

FOR THE FROSTING:

1-½ stick Butter, Softened
1-½ teaspoon Vanilla Extract
6 cups Powdered Sugar
3 Tablespoons Milk
1 whole Vanilla Bean, Split And Scraped
Preparation
Preheat the oven to 375 degrees and line two muffin pans with cupcake wrappers.
Mix the flour, baking powder, salt, and sugar together in a medium bowl.
In a different, larger bowl, mix together the butter, eggs, vanilla, Marsala wine, and milk.
Add in the ricotta cheese, orange zest, and powdered sugar. Mix in the dry ingredients, and then stir in the chocolate chips.
Pour the batter into cupcake liners, 24 in total. Bake for 20 to 25 minutes. Remove the cupcakes from the muffin pans to a cooling rack.
While the cupcakes are cooling, make the frosting. Cream the butter and shortening together, and then add in the vanilla extract. Gradually add in the powdered sugar. Mix in the milk, and then mix in the vanilla from the vanilla bean.
Frost the cupcakes once they have cooled completely, and top with additional chocolate chips if desired.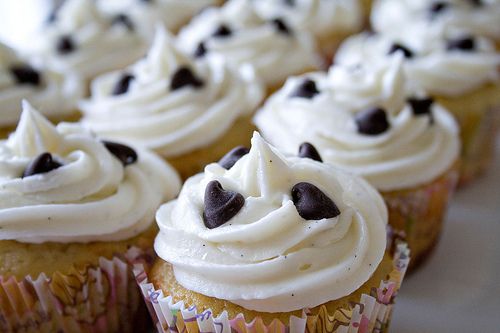 Recipe From: http://tastykitchen.com