Polpette al sugo (meatballs with tomatoes)
  Polpette al sugo (meatballs with tomatoes)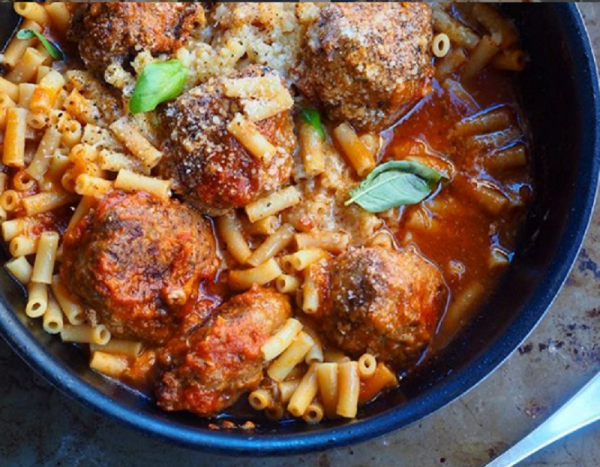 Polpette al sugo (meatballs with tomatoes) 💕🙏🏼🇮🇹
Ingredients for 4 people
2 slices of stale bread, crust removed, cut into chunks
1 cup of milk
1 lb (450 gr) of premium beef mince
1 egg
1 handful of chopped up parsley leaves
1/4 teaspoon of grated nutmeg
1/3 cup of grated parmesan cheese
2 teaspoon of salt
1 teaspoon of ground white pepper
1 brown onion, chopped up
1 garlic clove bashed with the back of a knife
3 tablespoons of extra virgin olive oil
1/2 cup of red wine
2 tins of tomatoes
1 cup of water
salt to taste
How to
1. Soak the bread in milk for about 10 minutes.
2. In a bowl, mix together the beef mince with 1 egg, salt and pepper, chopped parsley, the tip of a s teaspoon of grated nutmeg and grated Parmigiano (or Grana Padano) . Use a spoon if you feel squeamish about touching raw meat, but in my opinion hands are your best kitchen tools.
3. Squeeze the milk out of the bread ,add to the meat mix and amalgamate.
4. Using the palms of your hand, roll the polpette the size of small manadarins and set aside in the fridge to firm up for 15 minutes.
5. In the meantime, pan fry the chopped onion and garlic in a little olive oil until the onion is soft and translucent.
6. Add your meatballs and brown them on both sides, then add 1/2 cup of red wine. Let the alcohol evaporate, then add 1 bay leaf, two tins of tomatoes and water. Bring to the boil, then turn the heat to low and simmer with the lid on for at least 2 hours, stirring occasionally. Adjust with salt and pepper.
Serve with crusty bread or mix through some pasta, cooked to a perfect al dente! 🍝 🇮🇹💕.
Join Joanne and Frank on Facebook at
and