Capellini in Brodo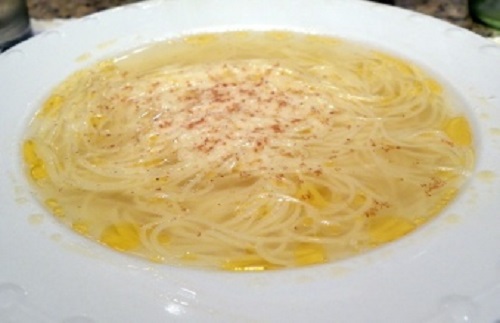 Ingredients
1-1/2 quarts (1.5 liters) home made chicken broth see below  (substitute with organic store canned broth)
5 oz (150 gr) capellini (angel hair) fresh pasta (substitute dry store angel hair)
2 oz (60 gr) cup parmigiano reggiano cheese, freshly grated
pinch of nutmeg, freshly grated
Directions
Place the broth in a pot and bring to a boil. When the broth is at a fast boil drop the pasta.
Cook until the pasta is "al dente" (firm but not too soft or overcooked.) The angel hair will cook fast. Be careful not to overcook.
Transfer the soup to serving bowls, top with freshly grated parmigiano reggiano cheese, and freshly grated nutmeg.
How to make your own Chicken Broth
Ingredients
1 whole  chicken
1 white onion
3-4 cloves
2 celery sticks
1 medium carrot
1 bunch of Italian parsley
Salt
Directions
Place the chicken in a 4 quart stockpot.
Stick the cloves on the surface of the onion
 Add the vegetables.
Fill the pot with approximately 3 quarts of water. The chicken should be fully covered by the water.
Turn heat to high. Cover the pot and bring it to a boil.
When the water starts boiling, using a slotted spoon, skim away the foam that forms on the surface. Cook until the chicken is tender.
Remove the chicken from the pot and set aside. The boiled chicken can be used later for some wonderful recipes.
Filter the broth through a fine strainer to remove all the small particles to clarify it. Let the broth cool to room temperature.
When the broth is cold, the fat will solidify on the surface. Remove most of the fat from the surface of the broth with a slotted spoon. Set the broth aside to use in your soups or other recipes.