Beans Stewed with Tomato and Gambuccio
Beans Stewed with Tomato and Gambuccio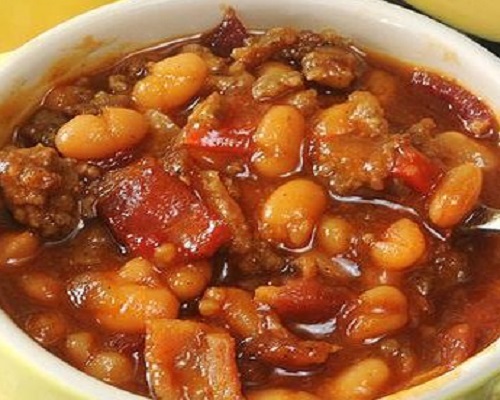 Gambuccio ( translated from Italian means 'small leg' ). This is the de-boned end of prosciutto. You can use it as you would use "pancetta" (unsmoked Italian bacon). Gambuccio is surprisingly sweeter, leaner and less salty than other cured pork. I used it to flavor a dish of Beans Stewed with Tomato.
Ingredients
3 tablespoons extra-virgin olive oil
1 onion, chopped
1 lb (400 gr) gambuccio, fat trimmed (substitute for Italian "pancetta" or unsmoked bacon)
2 lb (800 gr) canned pinto beans, (best would be dry Borlotti beans soaked overnight)
1 lb (400 gr) canned diced tomato
salt and pepper (or red chili pepper flakes)
Directions
Place extra virgin olive oil in a saucepan, add onion and gambuccio.
Saute' until onion is translucent and the pork is browned.
Add beans.
Stir to combine.
Add tomato.
Cook covered for about 20 minutes, until the beans are tender but still firm and not overcooked.
Add 1/2 cup water during cooking if needed.