Capocollo Bread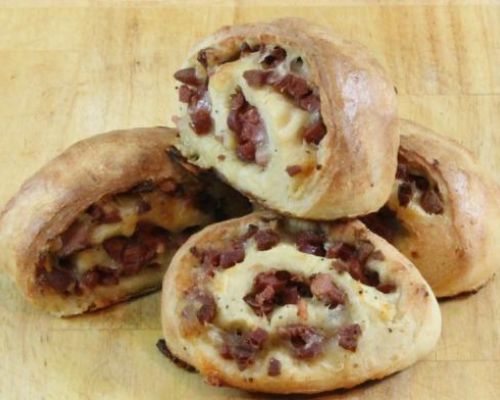 Ingredients
For
1

Batch(es)
For the Bread:
1

pound

all purpose flour

3

tablespoons

extra virgin olive oil

1

tablespoon

salt

1

teaspoon

sugar

1

tablespoons

dry yeast

1

egg yolk

milk, as much as needed
For the Filling:
1 1/2

pound

capocollo, diced

1/2

pound

provolone, diced

1/2

pound

mozzarella, sliced
Directions
Melt the yeast in 1 Oz milk.

Mix all the ingredients for the dough by adding as much milk as needed to make the dough elastic and soft.

Flatten the dough in a thin layer and elongated.  The dough should be about 8 inches high and stretched sideways as much as possible.

Spread the ingredients of the filling over the entire surface of the dough.

Roll the dough longways to form one loaf.

With a sharp knife, cut the loaf every 2 inches and put each piece in a baking pan with the cut side facing up.

Let all the cut bread pieces rise for about 1 1/2 hours by putting it in a warm part of the house.

Brush the bread surfaces with milk and bake at 425F for about 30 mins.