CAPRESE STYLE GRILLED CORN SALAD
CAPRESE STYLE GRILLED CORN SALAD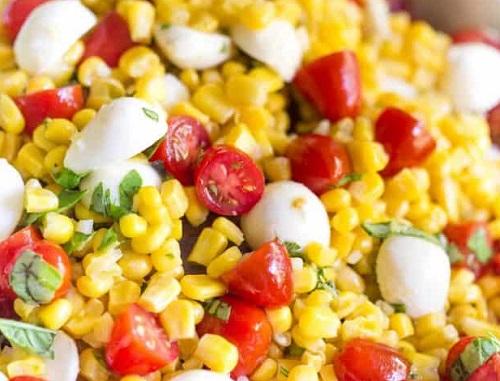 it is a great side for almost any meal but an exceptional choice for grilled meats or fish. You might think about doubling this as it disappears very quickly!
Ingredients
Serves: 4
5 Ears Sweet Corn
Olive Oil
Salt and pepper
1 Medium Cucumber
1 C. Chopped Sweet grape or cherry tomatoes
3 Tbsp. Coarsely chopped fresh Basil
1 1/2 C. Cubed Fresh Mozzarella Cheese (about 8 oz)
DRESSING
3/4 C. Olive Oil
1/4 C. Red Wine Vinegar
1 Tsp. Kosher Salt
1/4 Tsp. Coarse Ground Black Pepper
1/2 Tsp. Dijon Mustard
1/2 Tsp. Dried Oregano
Pinch Red Pepper Flakes
1/2 Tsp. Sugar
Reserve Capers for garnish
Instructions
Generously rub or brush ears of corn with olive oil. Then sprinkle on salt and pepper hitting all sides
Grill the corn til tender on a hot grill. Some char is good. It adds color and flavor. You can do this a day ahead.
When corn is done and cool, stand each ear up on a board or plate and cut off the corn kernels with a sharp knife going all the way around until all of the kernels are off the cob. Discard the cobs.
When ready to prepare the salad, chop your cucumber, tomatoes, basil, and mozzarella – Then place all in a bowl.
Add your corn kernels and mix all.
DRESSSING
Combine all dressing ingredients in a bowl and whisk well. Dress your salad with as much dressing as you like. If you have extra dressing, save it to add if after refrigerating, your salad needs re-seasoning or use it on a tossed salad.
Check for seasoning if the salad sits in refrigerator.
Add capers for garnish.