Caramel Espresso Float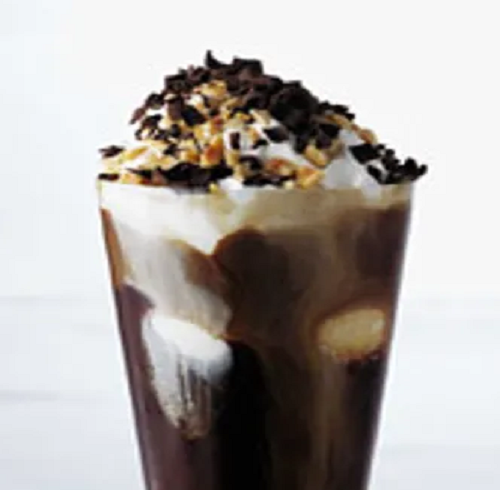 Ingredients:
6 tablespoons granulated sugar
2 cups water
1/4 cup instant-espresso powder
2 cups ice cubes
1/2 cup chilled heavy cream
3 tablespoons confectioners sugar
4 generous scoops premium vanilla ice cream (from 1 pint)
2 tablespoons chopped nuts, such as almonds or hazelnuts , toasted
3 tablespoons bittersweet chocolate shavings (made with a vegetable peeler; from a 3-oz bar)
Directions:
Cook granulated sugar in a dry 2 to 3-quart heavy saucepan over moderate heat, undisturbed, until it begins to melt.
Continue to cook, stirring occasionally with a fork, until sugar melts into a deep golden caramel.
Remove from heat and carefully add 1 cup water (caramel will harden and steam vigorously).
Cook over high heat, stirring, until caramel is dissolved, then remove pan from heat.
Add espresso powder and stir until dissolved.
Add remaining cup water and ice cubes and stir until espresso is cold.
Discard any unmelted ice cubes.
Beat cream with confectioners sugar in a bowl with an electric mixer until it just holds soft peaks.
Divide ice cream among 4 (8-ounce) glasses, then pour 1/2 cup espresso over each serving and top with whipped cream, nuts, and chocolate. Makes 4 servings