Stuffed Peaches (Pesche Ripiene)
Stuffed Peaches (Pesche Ripiene)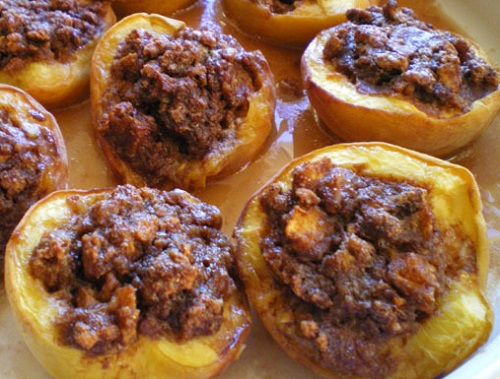 Ingredients:
1 oz (25 grams) unsalted butter plus extra, for greasing
6 yellow peaches
4 oz (100 grams) whole blanched almonds
12 Amaretti biscuits (almond macaroons)
2 oz (50 grams)) sugar
1 egg yolk
2 tablespoons (30 ml) Marsala, Maraschino or Amaretto (almond liqueur)
Grated zest of 1/2 lemon
2 fl oz (50 ml) white wine icing sugar, to serve
Directions:
Pre-heat the oven to 350°F (180°C) Gas Mark 4.
Butter a shallow, ovenproof dish.
Cut the peaches in half and remove the stones.
Place the halves in the prepared dish, cut side up.
Put the almonds and Amaretti biscuits in a food processor and coarsely grind.
Mix in 2 oz (50 grams) of caster or superfine sugar, the egg yolk, Marsala and lemon zest.
Use the mixture to stuff the peach halves, piling it up slightly.
Sprinkle over the wine.
Place a shaving of butter on top of each peach half.
Bake in the oven for about 20 minutes until the peaches are soft but still holding their shape.
Serve dusted with sifted icing sugar.