Casoncelli alla Bergamasca
Casoncelli alla Bergamasca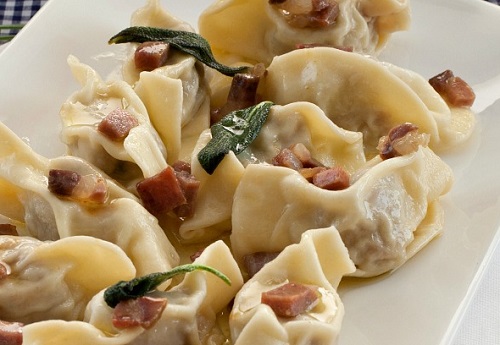 Casoncelli: A traditional pasta from Lombardy
Ingredients:
3/4 pound of fresh egg pasta dough (see below how to make)

Filling:
8 ounces boneless pork ribs
Salt and pepper
Olive oil
1/4 cup golden raisins
2 amaretti cookies, crushed
1/2 cup finely chopped pear
1/4 cup grated Parmesan cheese
1 egg
Pinch of freshly grated nutmeg
Sauce:
6 tablespoon unsalted butter
4 ounces pancetta, cut into 1/4-inch cubes
About 24 sage leaves
1 garlic clove, sliced
Parmesan cheese for serving
Directions:
To make the filling:
Cut the pork into small (about 1/2-inch) cubes.  Season the meat with salt and pepper.  Heat 1-2 tablespoons of olive oil in a skillet over medium-high heat.
Sauté the pork in the skillet until no pink remains, about 5 minutes.  Remove from heat and set aside to cool.
When the meat is cooled, transfer it to the bowl of a food processor.  Add the raisins and pulse to finely chop.  Add the rest of the filling ingredients and season with salt and pepper.  Process the mixture until well combined. The texture of the filling should be slightly coarse, not completely smooth.  Put the filling into a disposable pastry bag; clip the tip to make a 1/2-inch opening.  If you don't have a pastry bag, you can use a spoon to distribute the filling.
To form the casoncelli:
Roll out the pasta dough into strips about 4-inches wide.  Place tablespoons of filling at 2-inch intervals down the center of each dough strip.  Brush the edges and between the filling with a little water (this will help to seal them.)  Bring the bottom edge of the dough strip up to meet the top edge.  Use your fingertips to seal the dough around each mound of filling.
With a round fluted cutter, cut a half-moon shape around each mound of filling.
To shape each casoncelli, place the folded side of the filled pocket on a work surface.  Lightly press down so that the folded side flattens and the pocket stands upright.  With one finger, gently press down on the middle of the half-moon to indent the middle. Place the formed casoncelli on a cornmeal or floured surface as continue forming the remainder.
To make the sauce:
Put all of the sauce ingredients in a skillet over low heat.  Cook for 10 to 15 minutes, until the butter begins to brown.  The pancetta should be crispy brown, the garlic golden, and the sage leaves will also be crisp.  Remove from heat and set aside.
To serve:
Cook the casoncelli in boiling salted water for 5-6 minutes, or until tender.
Place several casoncelli into individual serving bowls.  Sprinkle with some grated Parmesan cheese.  Spoon a few tablespoons of the sauce over each and serve.
Basic Egg Pasta Dough
Ingredients:
To make about 3/4 pound (3 to 4 servings):
1-1/2 cups all-purpose flour
2 eggs
1/2 teaspoon salt
3/4 tablespoon olive oil
3/4 tablespoons lukewarm water
Directions:
Place the flour on a large floured surface. Make a well in the center.
Break the eggs into the well. Add the salt, oil, and water. Beat the mixture
in the well with a fork. Using a fork, gently start to work the flour into the liquid.
Continue until the dough becomes sticky and difficult to work with the fork.
Use your hands to form the rough dough into a ball. Transfer the dough to a lightly floured surface. Knead the dough until it is smooth and elastic, about 10 minutes. Cover with a bowl or towel and let rest for 10 to 15 minutes.
Proceed with rolling and cutting the pasta according to your recipe