Limoncello Tiramisu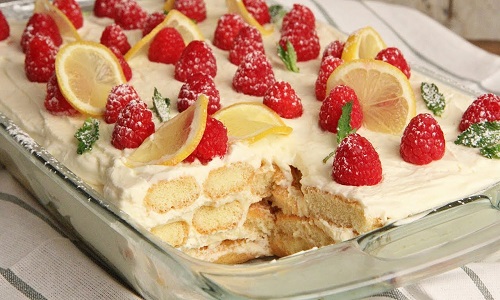 Ingredients
    For the custard:
    16oz of mascarpone
    1/3 cup of granulated sugar
    Zest and juice of half of a lemon
    8oz of lemon curd
    1 1/2 cups of heavy cream, whipped to stiff peaks
    For the syrup:
    1 cup of limoncello
    1 1/2 cups of water
    1/2 cup of granulated sugar
    Zest and juice of 1/2 of a lemon
    Additional ingredients:
    Savoiardi, italian lady fingers
    Fresh raspberries
    Fresh mint
Preparation
1) In a small saucepan, add the water, limoncello and 1/2 cup of sugar and simmer just long enough for the sugar to dissolve, remove from the heat, add the lemon zest and juice and let it cool to room temperature in a shallow bowl.
    2) In The bowl of a standing mixer, cream together the mascarpone, sugar, lemon curd, lemon zest and juice and vanilla for a couple minutes or until creamy and smooth, fold in the whipped cream and set aside.
    3) Have a 9×13" pan ready and start assembling. Dip the lady fingers in the syrup mixture and make one single layer, then spread 1/3 of the cream mixture and continue to do this until you have 3 layers of ladyfingers and 3 layers of custard ending with the custard. Wrap it with some plastic wrap and pop it in the fridge for a minimum of 6 hours or overnight.
    4) Top with berries and mint and serve!