Cheesy Truffle Rolls Made at Home
Cheesy Truffle Rolls Made at Home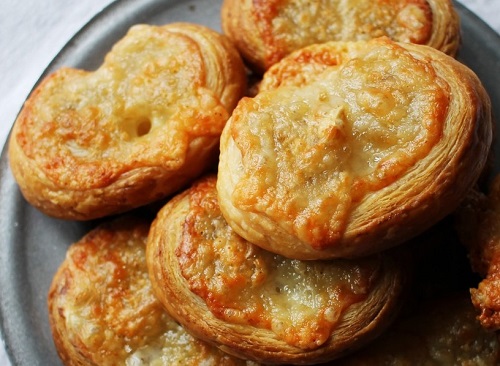 Truffle lovers, rejoice! We have found a secret ingredient to satisfy all of your truffle cravings… Sabatino Truffle Zest. That's correct. Truffle. Zest. It's essentially made of superfine grated black truffles, ready to sprinkle on anything you can imagine. We'll just let your mind run amok with visions of truffles for a moment…
The uses for this truffle "spice" are boundless, but here's something to get you started. These cheesy truffle rolls are a savory version of a French Palmier pastry using a superb melting cheese, Fontina Val D'Aosta. They are a simple appetizer when you're entertaining, or a way to get a little fancy on a weeknight.
All you need for cheesy, buttery, truffley rolls…
1 roll of store-bought puff pastry
2 TBSP of melted good butter (Kerry Gold, Plugra or similar)
1 TBSP of Sabatino Truffle Zest
About 4 oz of grated Fontina Val D'Aosta
Directions:
1. Begin by preheating the oven to 400° F (or whatever directions are listed on your puff pastry).
2. Line a baking sheet with foil or parchment. Unfurl the pastry dough onto the baking sheet.
3. Stir the truffle zest into the melted butter. Using a basting brush, evenly coat the pastry with the mixture.
4. Add a layer of the grated Fontina. Don't be stingy with the cheese!
5. Start to roll up the sides evenly, and tightly, so that they meet in the middle like a doughy scroll.
6. Slice the roll with a sharp knife into 12 pieces. *Tip: if your pastry got a little warm and sticky, throw the whole baking sheet in the freezer for a few minutes. It will be much easier to slice when the dough is cold and firm.
7. Arrange the pieces on the baking sheet. Use the rest of the truffle butter to slather it onto the tops and sides of the rolls.
8. Pop them in the oven until they are puffed and golden, about 10 minutes (or again whatever the pastry directions say).
These are best enjoyed straight from the oven while the cheese is gooey and you're at risk of getting truffle butter all over your fingers!