Chevre Cheesecake with Strawberry Balsamic Reduction and Lemon Sabayon Recipe
Chevre Cheesecake with Strawberry Balsamic Reduction and Lemon Sabayon Recipe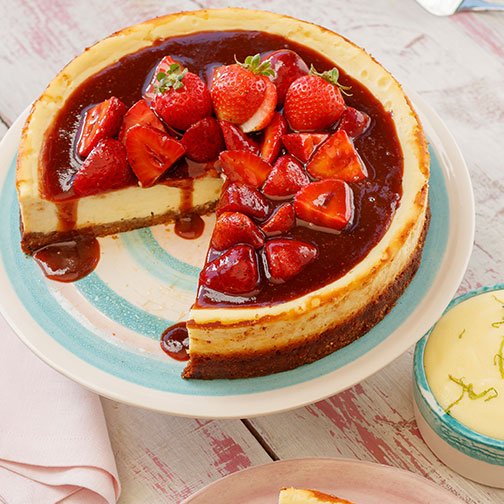 by Gourmet Food World
A unique twist on a classic cheesecake, this recipe is made with soft goat cheese for savory twist, and served with a fresh strawberry balsamic reduction and an easy homemade lemon sabayon sauce.
Chevre Cheesecake with Strawberry Balsamic Reduction and Lemon Sabayon Recipe Instructions
Ingredients
For the Dough
6 oz. almond flour
3 ½ oz. butter
3 ½ oz. sugar
For the Goat Cheese Filling
2 ½ oz. butter
3 oz. sugar
1 lb. soft goat cheese
3 large eggs
1 ½ tbsp. cornstarch
6 tbsp. plain yoghurt
For the Strawberry Balsamic Reduction
1 lb. strawberries, washed, divided into two parts
4 tbsp. aged balsamic vinegar
5 tbsp. muscovado sugar
For the Lemon Sabayon
3 large eggs
4 tbsp. white sugar
Zest of 2 lemons
Juice of 2 lemons
Directions
Preheat the oven 350F.
Butter the cake mold.
Mix the almond flour with the butter using a fork. when it looks like breadcrumbs mix in the sugar, and incorporate.
Cover the bottom of the cake mold and press with the back of a spoon to make the surface even. Wrap the bottom of the cake mold with the aluminum foil to prevent butter melts out and bake for 15 to 20 minutes. Remove and let cool.
With an electric hand mixer whisk the butter and the sugar until creamy, then add the chévre cheese, the eggs, the cornstarch and the yoghurt and mix well. Pour this mix on top of the cooled cake base and bake for another 50-60 minutes until firm in the edges. Let cool for 30 minutes in the oven, remove and keep covered in the refrigerator.
For the coulis, chop half of the strawberries and place in a medium saucepan and add balsamic and muscovado sugar. Let stand for 15 minutes, then cook over medium heat for 5 minutes. Cool, then process with a hand food processor. Sieve or strain, mix with the fresh strawberries and reserve.
Make the sabayon: Using a hand mixer whisk the eggs with the sugar in a double boiler or bain marie (the water must not touch the bottom of the bowl) until very foamy and pale yellow. Boil the lemon juice on a small saucepan, then add slowly to the eggs an sugar mix, beating with a hand whisker until the mixture is hot and thick. Take it off the fire and whisk 2 o 3 minutes more. Let it cool on top of a bowl filled with ice water, then keep covered in the refrigerator.
To serve, mix with the strawberry coulis and pour on top of the cheese cake and serve with the lemon sabayon.
Join Joanne and Frank on Facebook at
and