Chicken, Artichoke and Grape Skewers
Chicken, Artichoke and Grape Skewers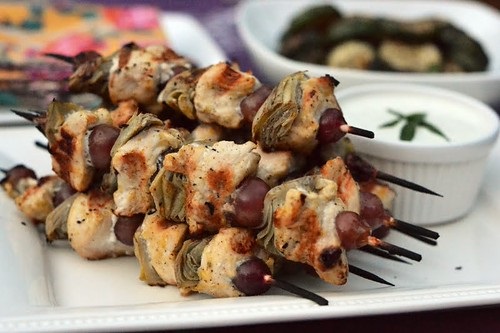 Ingredients
Skewers
2 tablespoons olive oil

zest from 1 lemon

2 tablespoons lemon juice

4 cloves garlic, minced

1 tablespoon dijon mustard

1/2 teaspoon salt

4 chicken breasts, about 5oz each, trimmed and cut into 3/4″ cubes

9 oz package frozen artichokes, cooked according to package directions

1 cup (160gm) seedless red grapes
Tarragon-Yogurt Sauce
1/2 cup (4oz) nonfat plain Greek yogurt

2 teaspoon lemon juice

1 teaspoon lemon zest

2 tablespoons water

2 teaspoons finely chopped tarragon

salt and pepper, to taste
Directions
If using wooden skewers, arrange them on a rimmed baking sheet and cover with hot water (it doesn't need to be boiling; hot water from the tap is fine. Soaking the skewers helps prevent them from catching on fire while grilling.)

To prepare skewers, whisk together olive oil, lemon zest, lemon juice, garlic, mustard, and salt. Add chicken and allow to marinate at room temperature for 20 minutes.

Meanwhile, pre-heat grill to medium-low heat. Prepare tarragon-yogurt sauce by combining all ingredients in a small bowl. Refrigerate until ready to serve.

Thread chicken, artichokes and grapes onto skewers. Grill for 10-15 minutes, turning occasionally, until chicken is cooked through. Serve warm with tarragon-yogurt sauce.