Roasted Peppers Stuffed with Anchovies
Roasted Peppers Stuffed with Anchovies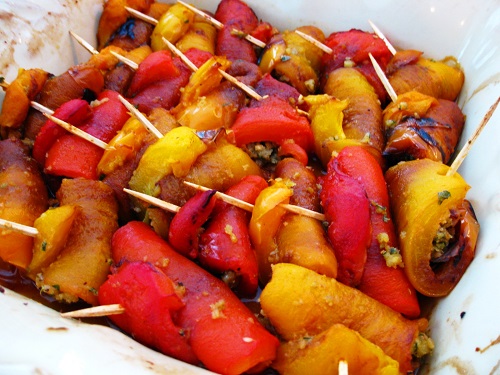 Ingredients
6-7 multi-colored bell peppers

3 tablespoons capers

3 tablespoons lightly toasted pine nuts*

3 tablespoons risins, soaked in warm water for about 15 minutes

8 oil-packed anchovy filets

2/3 cup bread crumbs

2 tablespoons chopped flat leaf parsley

freshly ground pepper, to taste

2 tablespoons olive oil
Directions
Begin by roasting the peppers. To do so, preheat the broiler. Wash the peppers and slice in half, removing the stem and ribs. Place the peppers, skin side-up, on a baking sheet and spray with canola or olive oil cooking spray. Place the sheet in the oven, on the top oven rack position. Broil the peppers for 5-10 minutes, until charred on all surfaces. Transfer the peppers to a large bowl, cover with plastic wrap, and set aside until cool enough to handle.

To prepare the filling, place the remaining ingredients in a small food processor and pulse to combine. Or, finely chop and mix together. Season to taste with pepper (it will likely not need any salt, because the anchovies are very salty.) Mix in the olive oil to form a loose paste.

To assemble, take a bell pepper half and carefully slip off the charred skin. Cut the pepper in half. Working with one strip at a time, place about one teaspoon of the filling mixture on the wide end, and roll up towards the pointed end. Secure with a toothpick and gently place into a lightly oiled baking dish. Repeat with remaining peppers. The peppers can be assembled a day or two ahead of time and stored in the refrigerator.

Just before serving, bake the stuffed peppers in a preheated 425ºF oven for about 15 minutes, until warmed through and lightly toasted. Serve immediately or at room temperature.
*To toast pine nuts, place them in a dry skillet over low heat, shaking the pan occasionally, until lightly browned and fragrant.