Chicken Marsala Recipe – Rossella's Cooking with Nonna
Chicken Marsala
Rossella's Cooking with Nonna
*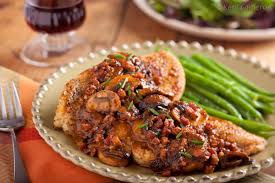 Chicken marsala is an Italian-American dish made from chicken cutlets, mushrooms, and Marsala wine. It is a variation of traditional Italian scaloppina dishes, of which there are many varieties throughout Italy. The dish dates to the 19th century, when it most likely originated with English families who lived in
western Sicily, where Marsala wine is produced.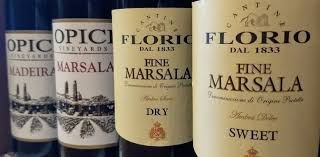 The chicken is coated in flour, briefly sautéed, and then removed from the pan, which is then used to make a Marsala reduction sauce. The sauce is made by reducing the wine to nearly the consistency of a syrup while adding onions or shallots, as well as mushrooms, herbs and possibly other ingredients. The sauce is then poured over the chicken, which has been kept in a warming oven, and served immediately.
In an alternative method, the chicken breasts may be braised in a mixture of Marsala, butter, olive oil, mushrooms, and spices.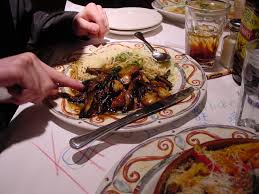 *
Marsala is a wine, dry or sweet, produced in the region surrounding the Italian city of Marsala in Sicily. Marsala first received Denominazione di Origine Controllata (DOC) status in 1969. The DOC status is equivalent to PDO: most countries limit the use of the term Marsala to those wines that come from the Marsala area, to which the European Union grants Protected Designation of Origin (PDO) status.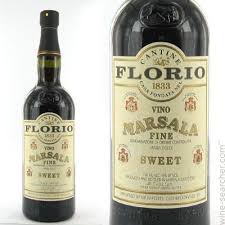 While the city's natives sometimes drink "vintage" Marsala, the wine produced for export is universally fortified similar to Port, Madeira and Sherry. Originally, this addition of alcohol was to ensure that it would last on long ocean voyages, but now it is made that way because of its popularity in foreign markets.
*
*
Then Join Dominic and Frank on Facebook at Everybody Loves Italian where we forever celebrate Life, Love and the Italian Experience. 
*
Visit us on the web at www.dev.everybodylovesitalian.com