Cod & Shrimp Fish Cakes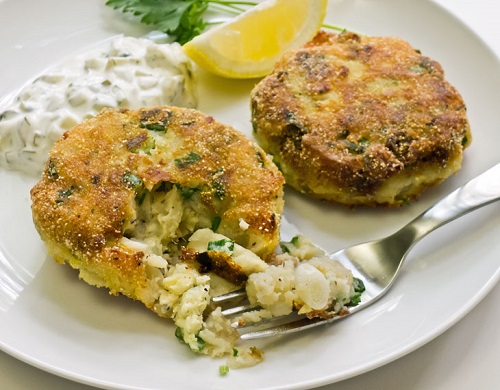 Ingredients
1 large russet potato (about 1 lb)
1 tbsp olive oil
1-2 cloves garlic, minced or pressed
10 oz cod fillets, both sides sprinkled with salt and freshly cracked pepper
1/4 lb raw shrimp cleaned and deveined
1-2 tbsp freshly squeezed lemon juice or use a splash of white wine
1 tsp lemon zest, minced
salt and freshly cracked pepper
2 green onions, sliced
3 tbsp parsley, chopped
2 tbsp mayonnaise
1 tsp Dijon mustard
1 egg
3 tbsp cornmeal
oil for frying
lemon wedges for serving
sauce
1/4 cup sour cream
1 tbsp mayonnaise
1-3 medium dill pickles, chopped (depending how sour you like your sauce)
1 tbsp capers
1-2 tsp fresh dill, chopped
a few tsp pickle juice
Directions
Wash and peel the potato. Cut into chunks. Bring a small pot of lightly salted water to a simmer and drop in the potato pieces. Cook until they can easily be pierced with a fork or knife; about 15-20 minutes. Rinse the potatoes under cold water when they are done. Drain and set aside.
While the potatoes are cooking, heat the olive oil in a large skillet. Stir in the garlic.
Add the fish and fry for a few minutes on each side until the fish is done and flakes easily. Remove the fish to a plate and add the shrimp the the skillet.
Cook the shrimp until they are cooked through; the time will depend on their size, but they cook quickly regardless. Remove the shrimp from the skillet.
Deglaze the pan with the lemon juice or wine, scraping up the browned bits. Pour over the fish and shrimp and allow to cool.
Place the zest into a large bowl. Add the potatoes; it's OK if they are still warm and mash them (you can leave them somewhat lumpy). Season with salt and pepper. Flake the fish and cut up the shrimp if they are large. Add these to the potato mixture as well as the green onions and parsley.
Gently toss the mixture and make any necessary adjustments to the seasonings; salt, pepper, lemon juice or wine.
In a small bowl, whisk together the mayonnaise, mustard and egg until the mixture is smooth. Pour over the fish and potato mixture and toss gently until evenly combined. Cover the bowl with wrap and place into the refrigerator for about an hour or two to chill.
Sprinkle the cornmeal over a plate. Form 8 fish cakes and dredge both sides through the cornmeal.
Combine the mayonnaise, pickles, capers and dill (for the sauce) in a small bowl. Stir in a bit of pickle juice if the sauce seems too thick. Set aside.
Heat the oil in the skillet and fry the fishcakes for 4-5 minutes on each side or until  they are golden brown. Serve with lemon wedges and sauce.