Creamy onions bucatini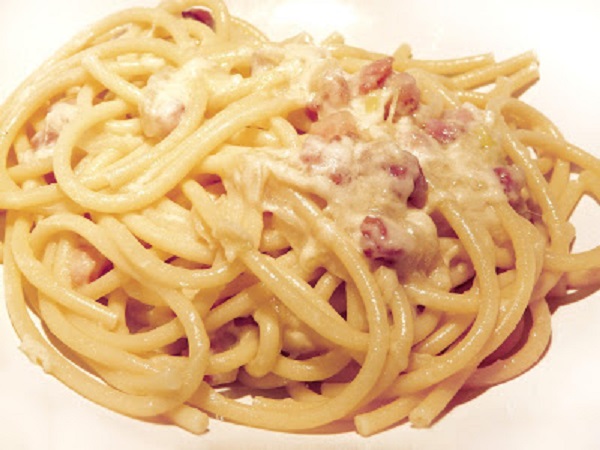 For 6 serves:
21 oz. bucatini
3 big blonde/ white onions
1/2 cup butter or extra-virgin olive oil
1 1/2 cups (more or less) water
a small pinch of baking soda
2 cups grated Parmesan (or Pecorino cheese if you prefer)
1 cup diced Pancetta if you like
Directions
Put the water pot on fire, meanwhile slice onions very thin, put them in a pan with the grease of your choice on low fire. Add the pinch of baking soda, stir well and add water enough to let the onions simmer. Keep the fire low, onions must melt, not get brown. You must end up with a sort of onion cream. In another skillet you can crisp bacon cubes then you can add them to onions and mix: taste and if necessary add salt (and pepper if you like). Drain your bucatini, save half a cup of cooking water, add it to onions after you poured in bucatini. Add grated Parmesan and mix well and quickly on fire for a couple of minutes. Serve this dish hot.
Join Joanne and Frank on Facebook at
and