Lemon & feta zucchini rolls
Lemon & feta zucchini rolls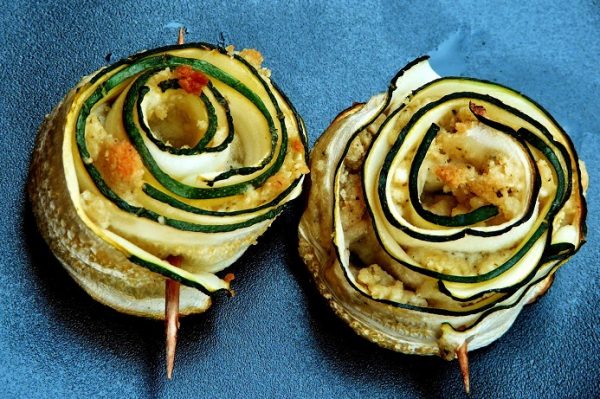 4 servings:
3 big and long zucchini
3/4 cup breadcrumbs
3/4 cup feta cheese
zest from 1 organic lemon
5-6 mint leaves
extra-virgin olive oil
salt & pepper to taste
Directions
Using a vegetable slicer slice zucchini the long side, you have to end with long and thin "ribbons" made of zucchini. Put them on a soup bowl, cover with a dinner plate, put in a microwave and microwave 2-3 minutes at medium power. In a mixer put breadcrumbs, feta, lemon zest, mint leaves, salt and pepper and oil enough to have a crumbled mixture. Once zucchini ribbons are cold put them 3 in a row on the short side to make a longer ribbon, spread the mixture then roll carefully. Fasten the roll with a toothpick. Do the same with all the zucchini ribbons, put them on a baking pan, if you have spare mixture add it on top of the rolls then bake untill golden at 350°F (about 15 minutes). You can serve them warm or cold, I'm sure you'll like them!
Join Joanne and Frank on Facebook at
and