Pot roast with porcini mushrooms ( Arrosto ai funghi porcini)
Pot roast with porcini mushrooms ( Arrosto ai funghi porcini)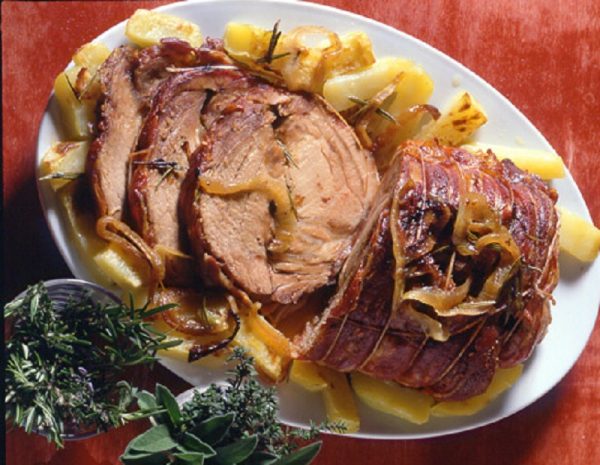 Pot roast with porcini mushrooms. You can use any other kind of mushrooms of course but porcini are definetely the most yummy according to me!
Ingredients:
2 lb beef roast
2 garlic cloves
2 tablespoon butter
2 tablespoon extravirgin olive oil
1/5 oz dried porcini soaked in warm water
1/2 lb fresh porcini, chopped or frozen chopped porcini
1 tablespoon of finely chopped parsley
1/2 cup white dry whine
1/2 cup meat broth (or canned broth)
salt pepper
Sprinkle meat with salt and pepper, in a saucepan put the butter, the oil and the garlic cloves turn the heat (medium) and when the fat starts foaming add the meat. Brown the meat on each side add wine and let it evaporate. Drain the soaked porcini and chop them, filter the brown water and add it to the roast with broth and mushrooms. Add also fresh/ frozen porcini and turn the heat to moderate. Turn the meat a couple of times during the cooking, let it cook covered until the meat is tender, near the end add parsley . To slice the meat you must let it become cold or at least warm: then put it again in the pan with sauce and warm it, then serve. So good with roasted potadoes or potadoes puree! Have a nice fall!
Join Joanne and Frank on Facebook at
and