Crispy Prosciutto Baskets Stuffed with Stracchino Cheese and Pear Copy
Crispy Prosciutto Baskets Stuffed with Stracchino Cheese and Pear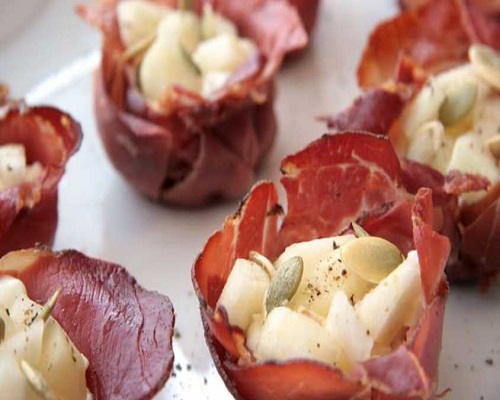 INGREDIENTS
7 oz Prosciutto crudo
14 oz Stracchino
2 Williams pears
Pumpkin seeds
Honey
Pepper
Lemon juice
These crispy Prosciutto (Italian ham) baskets stuffed with cheese and pears are a great idea for your Christmas party appetizer. It's an easy and elegant holiday appetizer recipe that you can prepare for a family lunch rather than for a dinner with friends.
Instructions
Cut pears into cubes and marinate them with lemon juice.
Line the muffin tins with slices of ham and let them generously overhang from the molds.
Bake the molds lined with prosciutto for about ten minutes at 400° F. Make sure that it doesn't burn!
Remove the baskets from the oven and let them cool, then fill each basket with some Stracchino (or if you prefer another fresh and cremy cheese), some pear cubes and few pumpkin seeds.
Complete with freshly ground pepper.
To finish, warm the honey jar in bain-marie to liquify the honey and sprinkle it on the ham baskets.