Crusty Chicken with Broccoli
Crusty Chicken with Broccoli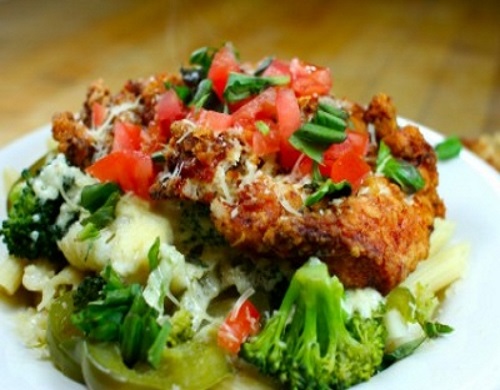 INGREDIENTS
Serves 4 people
4 boneless skinless chicken breasts

2 eggs

1/4 cup of milk

1/2 cup of Italian breadcrumbs

1/2 cup of Panko breadcrumbs

1/4 cup of fresh grated Parmesan or Romano cheese

1/2 tsp of dried basil

1/2 tsp of oregano

1/2 tsp of marjoram

1/2 tsp of garlic powder

1/2 tsp of salt

1 tsp of fresh ground black pepper

2 Tblsof extra virgin olive oil

1 Tbls of butter

1 bunch of broccoli

1/4 cup of fresh basil, shredded

1 cup of Roma tomatoes, chopped

1 avocado, (optional)

1/4 cup extra fresh grated Parmesan cheese

PREPARATION

In a medium bowl beat together the eggs and milk.

In another bowl mix together the breadcrumbs, cheese, dried basil, oregano, marjoram, garlic powder, salt and pepper.

Dip the chicken into the egg mixture then coat with the breadcrumbs and refrigerate for 10 minutes.

Using a steamer, steam the broccoli until tender.

In a large frying heat the oil and butter and cook the chicken until browned and crisp on both sides. Around 10 minutes on each side.

Place the chicken on a paper towel to drain the oil.

Plate the broccoli and optional avocado and top with the chicken breast.

Top the chicken with chopped tomatoes, basil and Parmesan and serve.