Custom Monogrammed Pizzelle Maker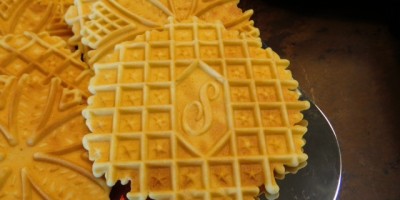 Custom Monogrammed Pizzelle Maker
One of our fans contacted us last year because he was searching for a custom monogrammed pizzelle maker.  We searched the internet and found that the Palmer Company offered exactly what he was looking for.  He ordered the Pizzelle maker as a house warming gift for his sister-in-law and they made Pizzelles in May!
 Here is a picture of the Pizzelle's they made.

 Here is a picture of her with the Pizzelle maker
Want to order your own custom monogrammed pizzelle maker or maybe one as a gift?
You can order one for $69.95 plus $30 to have it custom engraved with up to 7 letters.
Call (724) 872-8200 and tell them Everybody Loves Italian referred you.